Javier Ochoa Reyes: combining a love of environment and youth
Unity. Teamwork. Community. Talk with Javier Ochoa Reyes, project coordinator for Groundwork Richmond, California, for just a few minutes and you'll learn that this is what he truly values.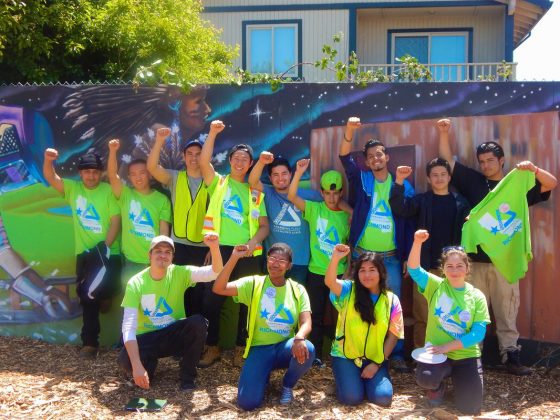 Whether he's managing tree-planting in Richmond's under-treed neighborhoods or helping youth install a mural they've designed on a community greenway or coordinating a massive volunteer park clean-up, Javier always finds ways to give back to the Richmond community, especially the local youth he works with on Groundwork Richmond Trust's Green Team. "It's not like an organization," says Javier. "The Trust is like a family where we keep adding brothers and sisters. Our kids — we don't call them Green Team members, we call them our kids. We are so united. We do the projects in a team. We work together."
Javier's journey to Groundwork Richmond began in the neighboring town of San Pablo, where he was born. At the age of three, Javier and his family had to return to their hometown village in rural Mexico because his parents didn't have papers to stay in the US. In 2008, 16-year-old Javier returned to California on his own in search of better educational and employment opportunities. Living with uncles he barely knew and speaking no English, Javier found work, but soon realized that work alone wouldn't help him achieve his greater goals. So he enrolled in Richmond High School, taking classes while working three part-time jobs, sometimes sleeping only a couple hours a night. In his free time, he studied English at a local community college, supplementing his classes with English-language books and CDs from the local library.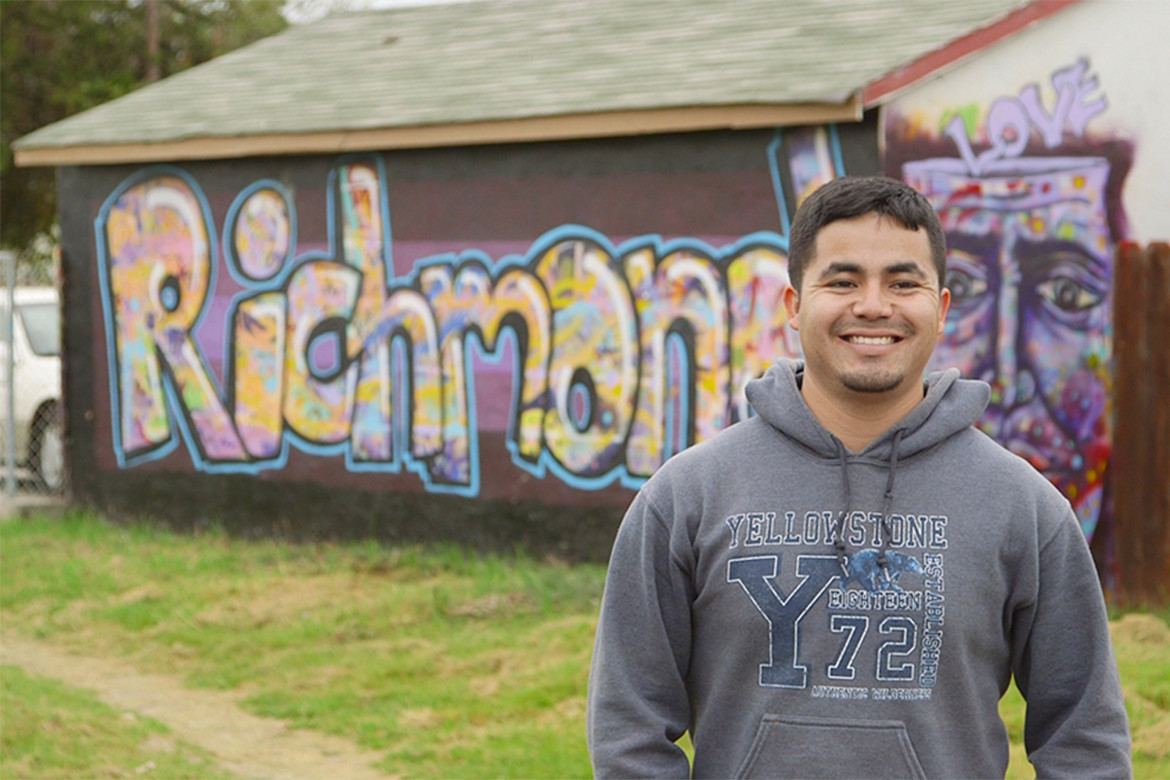 One of Javier's jobs was as a math tutor for the City of Richmond's Straight Talk on Prison (S.T.O.P.) after school program. Students in the S.T.O.P. program receive academic support and participate in environmental education and service‐learning projects organized by Groundwork Richmond and the National Park Service's Rosie the Riveter National Homefront Historical Park.
It was in the course of bringing S.T.O.P. participants to work on the Richmond Greenway, a 3.5-mile bike and pedestrian trail through the city that Groundwork was helping to restore, that Javier met Groundwork Richmond's Executive Director Sarah Calderon. "Sarah saw how hard I was working," said Javier, "and how good I was at managing the kids. I wouldn't just be sitting down, not working. You know, I come from a hardworking family and I always like to work hard. And she saw that, and she told me 'One day I'm going to get you a job, a good job.' And I was like 'OK.' I thought she was joking."
"The Trust is like a family where we keep adding brothers and sisters. Our…Green Team members, we call them our kids. We are so united. We do the projects in a team. We work together."
Sarah wasn't joking. For over two years, Javier has been in charge of Groundwork Richmond's Green Team, leading the youth and local volunteers in planting and caring for trees as part of a partnership between Groundwork and the City of Richmond to increase the city's urban tree canopy. He's also responsible for maintaining two of the three sites on the Richmond Greenway that Groundwork has adopted and transformed into parks. These sites offer local youth service-learning opportunities and a chance to gain hands-on job training skills in landscape architecture, horticulture, and mural and metal arts.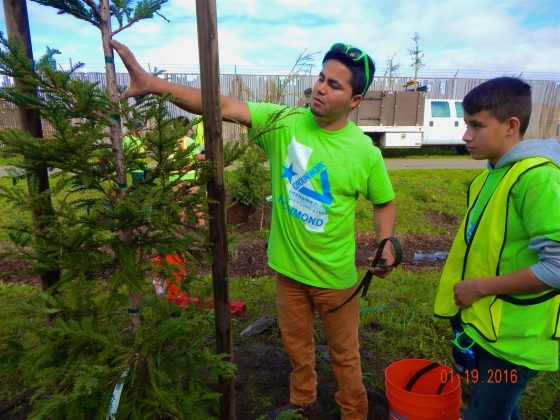 "I love the environment and I love working with kids," says Javier, "they just have so much energy." Providing them opportunities to learn and grow through environmental and community stewardship is one of Javier's favorite aspects of working with Groundwork. "They learn so much from us and from each other. They get jobs, they get to network with other people — professionally, in the future, that can get them get much better jobs as well. They get internships. I love the fact that we're able to provide so many resources to kids."
Most recently, Javier was a manager helping to plan arts and amenities for Unity Park, a $5-million, eight-block project along the Richmond Greenway that Groundwork Richmond is working on in partnership with 16 other local nonprofits. Responsibilities like this have provided great professional growth opportunities for Javier, who is also studying to be a civil engineer.
"Learning to work with different advocates and different people with different points of view, different cultures, a diverse group of people" has also stretched Javier personally. "I used to always think that I'm right and I'd always defend my point. That's a problem that I have. But I learned that sometimes even if you're right, it's good to let it go a little bit. Sometimes it's better to listen to other points of view, because you're not always right."
Javier's dedication to his work and community has not gone unnoticed. Last year, he received a Local Conservation Hero award from Bay Nature Institute for his youth engagement work. And in 2016, the Super Bowl's 50 Fund recognized Javier as a local Playmaker for the tremendous impact he's had on Richmond's youth and community.
Javier will transfer to a four-year college soon to complete his engineering studies. He has big plans for the future, and he credits Groundwork Richmond for helping him prepare: "One of my goals is to get a company that can hire people, can provide opportunities for people. And Groundwork has helped me a lot because I've been in charge of many people, sometimes 120, 200 people in one day… We just had 160 to 200 people come out to our sites to do a massive tree planting and cleanup and mural installation, weeding and mulching. It's given me the opportunity to learn how to work with people, how to handle different advocates, how to talk to people, and how to manage a big crowd as a leader, not as a boss. It's helped me a lot."