Voices from Groundwork USA's National Youth Programs
Melissa gUEVARA'S Journey from green teamer to YOUTH Leader
"Working with youth and with Groundwork is an extension of my values–my love for the environment, my community, and all of humanity."
For about fifteen years, Melissa Guevara has been a dedicated environmental advocate and youth leader within the Groundwork Network. However, her journey wasn't always straightforward. During high school, she committed herself to a conservation internship focused on wildlife protection. While thoroughly loving every second of the work, she couldn't overlook the inequities. The lack of representation for individuals like herself—those whose unique experiences and backgrounds weren't adequately reflected in those positions—was evident. Following an internship at Wallkill National Wildlife Refuge, it became evident that Groundwork provided the perfect avenue for her to advance environmental justice and equity.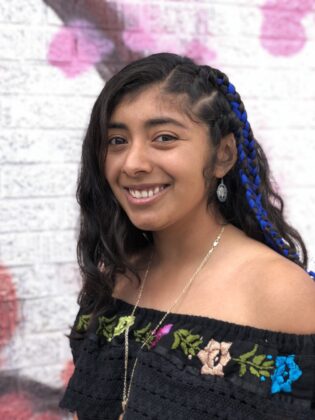 Today, Melissa is committed to expanding the environmental movement by inspiring underserved youth to become stewards in their communities. As a part-time Youth Programs Director for Groundwork RVA, Melissa's commitment to youth development has come full circle as she now leads many of the same youth programs that influenced her journey years ago. She oversees various programs, including the Green Team and the Bellemeade Bike Program, and initiatives centered around their urban farm.
Melissa joined us to recount her journey as a dedicated member of the Groundwork Network. She discussed her role in shaping the youth programs, how these experiences influenced her career trajectory and the aspirations she holds for the future.
……
Q: Could you share some of the programs you started in and the roles you took on within the Groundwork Network?
"In the summer of 2009, I joined the Groundwork Hudson Valley Science Barge as a docent, which was my first introduction to the Groundwork Network. I joined their Green Team the next year and stayed in this role for three years. During my time on the Green Team, I had the opportunity to travel to several iconic destinations, such as Yellowstone National Park and Glacier National Park, as part of Groundwork's National Youth Programs." Melissa also had the privilege of attending the Rocky Mountain National Assembly and Youth Summit, which led to a job running Groundwork Dallas's Green Team program after graduating college.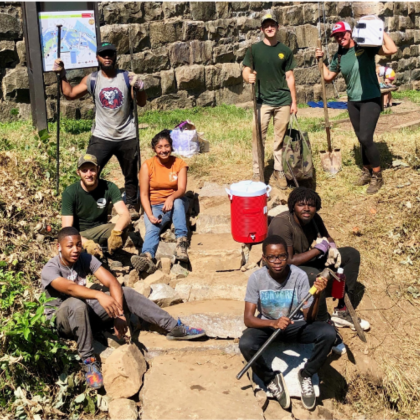 Q: What drove you to recognize the significance of youth leadership in the environmental field?
"Before I began working in the Groundwork Network, I interned at the Rachel Carson National Wildlife Refuge in Maine and loved it! However, I couldn't help but notice the inequities within the program when it came to access and opportunities. I kept questioning why we didn't work with diverse communities, people who looked like me from similar backgrounds. I realized that the field I had been pursuing wasn't the right fit for me. That following summer, I interned with the Wallkill National Wildlife Refuge, which was collaborating with Groundwork Hudson Valley to connect urban communities to the wildlife refuge. That internship was designed to connect urban communities with the outdoors. During that experience, I had an "aha" moment – I wanted to work with high school youth and inspire them to be environment leaders. Youth, especially high schoolers, have an influential voice. When they genuinely care about a cause, such as preventing littering, they often inspire their families to join them as well."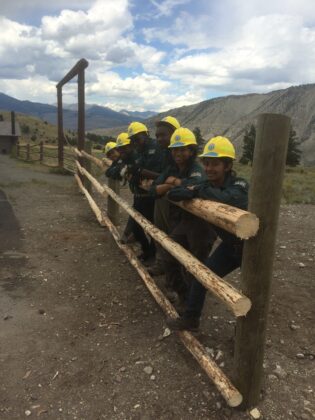 Q: As a Youth Program Director, how would you describe your overall experience leading some of the National Youth Programs?
"Having run most youth programs I participated in and being on both sides, I feel they've achieved their mission. Folks who never thought about public outdoor spaces now think about them, have access to them, and feel empowered to take ownership of them. As a Director, the experiences are rewarding in a different way. You have many "aha" moments, great learning moments, and some you must trudge through. It's important to note that the National Parks trips are not a vacation for us. We're working from 6:30 AM until 11:00 PM when the last person turns in. But it's well worth it when you hear the participants talking about the trip as the best experience of their life."
Q: What advice would you share for those interested in a similar journey?
"Embrace the power of saying yes. Everything I've accomplished has been because I've said yes. If you want to travel on a similar path, be willing to say, 'Sure, Why not?' The worst thing that could happen is that it's not for you, but it was a learning experience. The best thing is that you learn you love something that you never would have imagined."
……
Melissa's journey is still unfolding. She is determined to make a significant impact in the environmental field and touch as many lives as possible. Eventually, she sees a job in philanthropy as a way to achieve her goals. Her time in the Network is an example of the potential that youth hold when their passion meets the guidance of mentors, the opportunity to build skills and learn, and the space for personal growth and connection.​
Enjoyed this interview and want to learn more? Explore the 2022 Youth Programs Report for a captivating glimpse into our National Youth Programs!