It might be hard to imagine right now, but the spring growing season is just around the corner! There are countless benefits to growing your own garden including improved nutrition, greater physical activity levels, and increased community access to healthy foods for everyone. But, safely growing in a city comes with its challenges. To help you get ready, we're excited to release our latest resource, Chris's Adventure: A Guide to Safe Urban Gardening.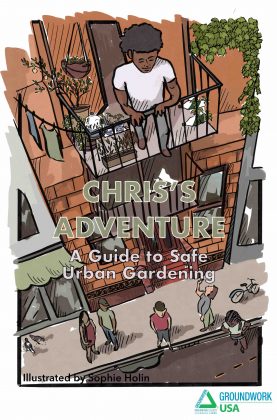 Whether you're a seasoned gardener, an educator, a youth crew leader, or someone just starting to develop your green thumb, we encourage you to download and share this guide and to let us know how you'll use it.
Using a comic book style, "Chris's Adventure" summarizes tips and best practices from our existing safe gardening and greening resources in a highly accessible visual format. (What to get right to the point? Check out the safe greening checklist on page 21!)
The story follows a young man named Chris as he heads to a community garden that he and his neighbors created on a former paint factory brownfield site. Along the way, he encounters several friends and colleagues who share their own urban gardening success stories.
Chris and his neighbors demonstrate that there are many benefits to urban growing and farming and easy practices to avoid toxic exposure while doing so. "Chris' Adventure" ultimately shows how individuals and communities can come together "by safely transforming polluted spaces into green places!" The story is now available in English, Spanish, Haitian Creole, and Mandarin.
We thank the EPA Brownfields and Land Revitalization Program for their support of this guide. Please sign up to stay in the loop and provide your comments and feedback. As Chris and his friends tell us, "We can't wait to see what you grow!"