Adapted from the Urban Waters Learning Network blog.
Since the inception of the Urban Waters program ten years ago, Urban Waters practitioners have been making a splash in the environmental sector, pioneering critical initiatives in racial equity, environmental justice, and equitable development, all while leveraging small grants and other resources to enact real change in local spaces. Environmental and racial justice have always been at the heart of this movement.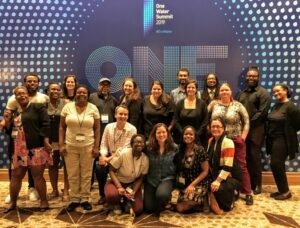 Over the years, the Urban Waters Learning Network, a peer-to-peer network of people and organizations working at the leading edge of innovative practice facilitated by Groundwork USA and The River Network, has tested new ideas, facilitated difficult conversations, and has curated and produced resources and tools to help organizations advance their practice.
With a decade of collaboration under the belt, we are taking stock, putting it all together, and examining the impacts of Urban Waters over the years, so that we might continue to build on this foundation and lead the way into an innovative and colorful future.
Much of the work has come about as a result of ongoing conversations at River Rally and One Water Summit, where community-led organizations, educators, public agencies, and others convene to talk about all things water. Over the past few years, a series of annual workshops led by a group of practitioners known loosely as the "EJ Motley group" were formalized and became a standing feature of the Urban Waters Learning Network Forum, held annually at River Rally. The first formal session, led by Darryl Haddock (West Atlanta Watershed Alliance) and Jennifer Arnold (Reciprocity Consulting LLC) and sponsored by the EPA, was held on June 21, 2019, at River Rally in Cleveland, OH.
"…We recognize that we all come at this work from different perspectives and life histories. It is emotional work that requires grace, patience and a sort of tough love. It takes all of us working together to make a difference."

Darryl Haddock, 2019
Over the past two years, we've explored topics related to:
Interpersonal and organizational racial equity
Inequitable impacts of flooding in low resourced communities
Inadequate investments in water infrastructure in vulnerable neighborhoods
Connections between equity and resilience
Creating opportunities for meaningful community engagement
Using an equity lens to targeted future investments in water infrastructure
What have we learned from these conversations? Here's a selection of curated tools and resources that have emerged through our work:
Advancing equity, justice, and inclusion is a full team effort. If you have a resource you'd like us to highlight, please email me directly at maria@groundworkusa.org