Take Charge! Student Energy Education and Action
"Take Charge! Student Energy Education and Action" engages high-school- and college-aged youth to reach out to their communities with information about energy efficiency, renewable energy, and green jobs.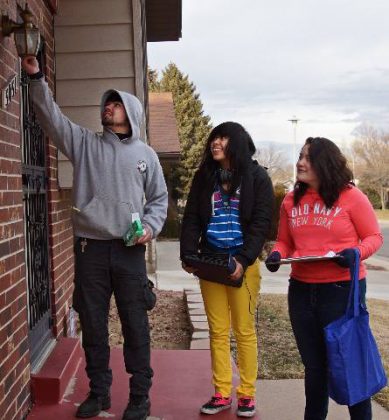 In just two years, Groundwork Denver's Student Energy Ambassadors (SEAs) conducted presentations and service-learning activities in over 40 Denver neighborhoods and 43 Colorado communities, connecting with some 36,000 residents to provide information and resources to reduce energy bills and greenhouse gas emissions. The statewide project was developed by Groundwork Denver in partnership with the Colorado Department of Labor and Employment, with funding from the American Recovery and Reinvestment Act.
The predominant Take Charge! service activity is the Porch Bulb Project, in which SEAs go door-to-door offering to swap the front porch light bulb from an incandescent to an energy efficient bulb. The straightforward action of changing the porch light bulb on the spot opens the door to a more in-depth conversation about energy savings in the home. SEAs use the opportunity to inform residents about how they can reduce their energy use by changing habits, such as washing clothes in cold water, and by making home improvements, such as installing weatherstripping or insulation. Depending on the neighborhood, residents can sign up for recycling, free trees to plant, and home energy audits and receive information about other Groundwork programs, such as transportation resources, waterways projects, or walkability efforts.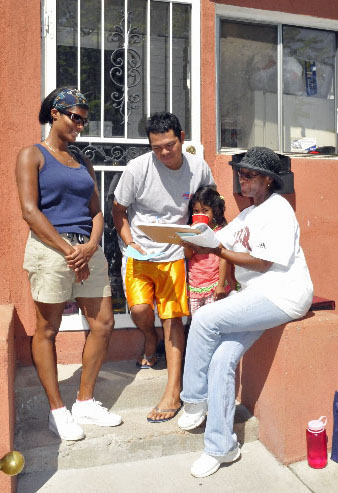 As they develop new communication, community engagement, data collection and hands-on implementation skills and partner and interact with local entities such as other students, municipal offices, and community groups, SEAs are making a difference in their communities and at a global level. The annual impacts of the Take Charge! (extrapolated from surveys of over 1,000 residents touched by the program) include:
1,466,494 kilowatt-hours of electricity reduced,
411,315 therms of natural gas reduced,
3,689 tons of CO2 emissions prevented, and
$501,539 in energy costs saved.
In addition to these measurable results, Groundwork Denver's neighbor-to-neighbor, door-to-door approach is a successful strategy to reach out to Denver's low-income and elderly residents, people who are often hard to reach through common communication modes.
Neighborhoods selected for Take Charge! are typically ones with older homes and lower-income residents facing larger energy bills and less ability to pay them. SEAs return from these outreach activities feeling empowered because they have accomplished something tangible while helping vulnerable members of their communities. As former SEA Julian Adorney explains, "In an age of sound bites, political posts capped at 140 characters, and the emotional disconnect of talking to someone on a computer, there's nothing like a face-to-face conversation to really make an impact."