Platte Farm Open Space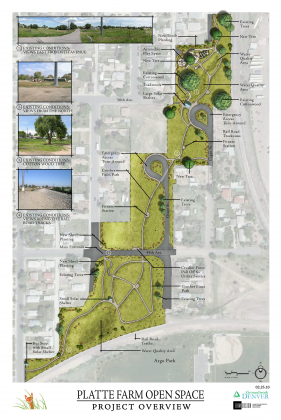 Platte Farm Open Space is a resident-led, 5.5-acre, brownfield-to-park redevelopment project in Globeville, one of Denver's environmental justice neighborhoods. Completed in 2020, this formerly contaminated open space – once a dumping ground for trash and industrial pollution – is now a beautiful community space with walking trails, playgrounds, stormwater infrastructure, wildflowers, grasses, and community gardens. In 2006, at the request of residents and the Globeville Civic Association #1, Groundwork Denver became involved with the visioning, planning, and implementation process for the project. Groundwork Denver acted as a liaison between the Platte Farm Open Space steering committee, property owners, and Denver's Department of Parks and Recreation.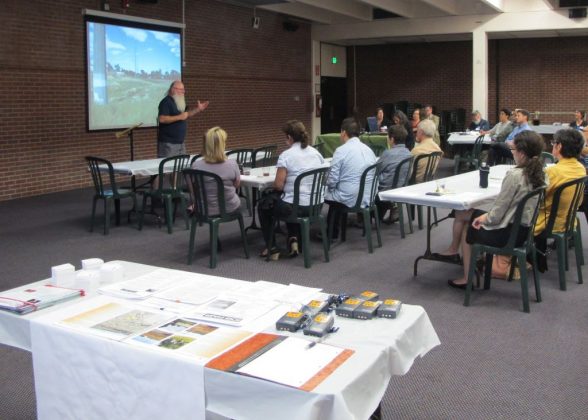 Led and designed by Globeville residents, the Platte Farm Open Space project is a prime example of equitable development in action. From the start, community members were in the driver's seat on the project. Resident steering committee members were treated as project managers by Groundwork staff, just the same as project managers who have been assigned by the City of Denver. The City's understanding of this area has greatly improved as a result of the knowledge and experiences shared by the steering committee. Platte Farm Open Space also demonstrates how to collaborate across sectors and align visions to achieve something that benefits neighborhood residents as well as the City.
"The residents of Globeville had a vision for this land as being an open park that anyone in the community could enjoy. This was a unique process because the community was at the table for almost every design meeting, almost every construction stage, and they even helped decide which kinds of trees would be planted. They were involved in the details in a way that Denver has almost never designed a park before."

Cindy Chang, Executive Director, Groundwork Denver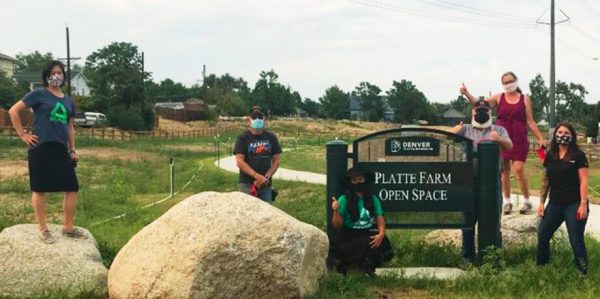 Over the years, Groundwork Denver has secured funding on behalf of the Globeville neighborhood to continue planning for Platte Farm Open Space. Landscape architects have helped transfer the neighborhood's vision onto paper, environmental consultants and survey experts were involved to correctly manage the many parcels of land that make up the open space, and hundreds of signatures from neighbors, businesses, and schools were collected in support of implementing Platte Farm Open Space.
Through all of these steps, the steering committee helped make critical decisions, create proposal requests, and select various consultants over the years. "Staying power," as Groundwork practitioners like to say, is critical to ensuring equitable outcomes for residents who bear the burden of brownfields.
Fourteen years after beginning, Platte Farm Open Space opened as an officially recognized Denver Park in mid-2020. What began as a humble dirt lot now shines in Globeville as a beacon of what can be possible when communities come together to reimagine a new future for their neighborhood.