Milwaukee Urban Gardens
Urban gardens provide access to fruits and vegetables in neighborhoods where poorly stocked corner stores and fast food outlets are plentiful and sources of fresh, local produce are few and far between. They promote healthful eating and contribute to public health improvements in communities struggling with high rates of obesity and nutrition-related chronic disease, and increase food security by providing inner city residents with sources of affordable, locally grown and controlled food. But urban gardens grow much more than food: they also cultivate community and help advance racial and economic justice in historically disinvested neighborhoods.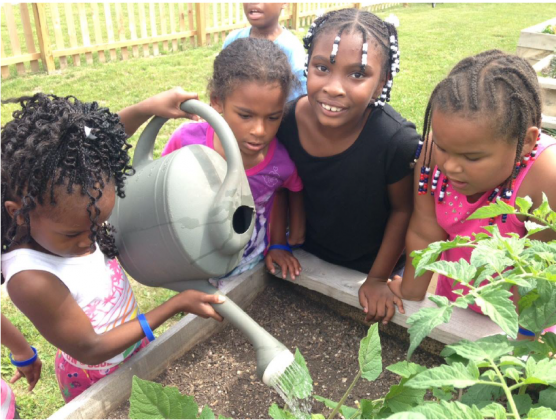 To see the benefits of urban gardens in action, one needs to look no further than the Milwaukee Grows Garden Network (MKE Grows). Founded in 2000 as Milwukee Urban Gardens (MUG), the group works to remove barriers and coordinate resources that lead to improved access to sustainable and equitable community gardening for all Milwaukee residents. In 2013, MKE Grows merged with Groundwork Milwaukee. What began with just five gardens in 2000 has evolved into a network of over 80 community gardens across the city. MKE Grows builds partnerships around local food production and food security and provides leadership, education, policy analysis, and project development support for the City of Milwaukee's thriving community-based food system.
Located primarily on city-owned vacant lots throughout Milwaukee's poorest and most disinvested neighborhoods, MKE Grows gardens are organized and run by residents of all ages, races, and ethnic backgrounds. Through MKE Grows, residents have transformed empty lots into community gardens, pocket parks, art installations, orchards, outdoor classroom and meeting spaces, memorials to victims of neighborhood gun violence, and much more. In 2021, Groundwork Milwaukee began piloting Health Hubs within their community garden network. Community growers at participating sites l take part in 15 workshops focuses on preparing and preserving fresh foods from the garden and have the opportunity to work with a Community Health Worker to support accessing additional health resources.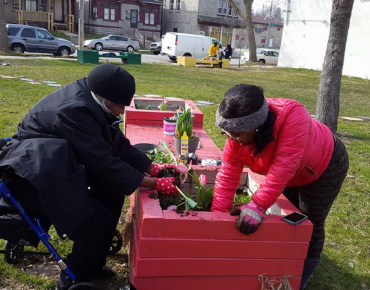 The goals of MUG gardens are as varied as the communities they represent and include
growing healthy food for residents to harvest;
bringing neighbors together through positive activity and safe space;
building strong community bonds through partnerships with local organizations, schools, and businesses,
beautifying neighborhoods through green space and art installations,
providing outdoor education, recreation, and meeting space for all age groups, and
improving residents' overall quality of life.
As former MKE Grows Program Director Antoine Carter explains, "The people in the neighborhood know what's missing. When we work with a neighborhood, we never go in and say, 'This is what we want to do.' We listen and try to incorporate what they view as important into any plans."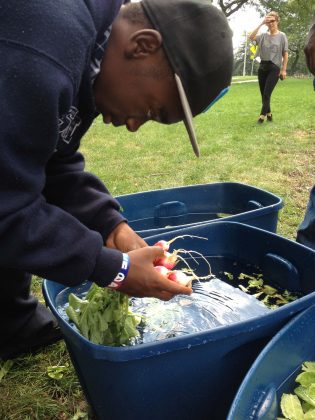 MKE Grows gardens also provide myriad youth development opportunities for Groundwork Milwaukee. Each growing season, Groundwork Milwaukee's school-aged Green Team helps to build rainwater harvesting structures and help with garden management. Young adults enrolled in the Ground Corps green employment training program provide maintenance and repairs to existing sites and construct new garden amenities. Through Groundwork Milwaukee's Young Farmers program, interested Community Supported Agriculture (CSA) member farmers mentor local high school students and immerse them in the agricultural, community, and fiscal responsibilities it takes to run a successful urban farm. Over the course of four years, the teens learn how to grow and maintain a garden, gain entrepreneurial and customer communication skills, and build confidence. They also learn to invest in their own health as they receive weekly CSA shares of produce they've helped grow. Groundwork Milwaukee's Junior Young Farmers Program offers elementary and middle-school-aged youth an opportunity to learn gardening skills by planting, maintaining, and harvesting over a dozen community garden vegetable beds in Milwaukee's Metcalfe Park neighborhood.
To draw attention to the tireless work of residents to improve their neighborhoods by creating, maintaining, and growing community gardens, Groundwork Milwaukee launched a Strong Roots awards program in 2015. The program honors the accomplishments of MUG gardens and their leaders in several categories — including best approach to stormwater management, best community involvement, most creative use of space, and best harvest — and recognizes them as models for encouraging other community gardens to reach their full potential.