Jacksonville's Home Repair Program: Preventing Displacement Through Climate Resilience
Nearly six decades after redlining was deemed illegal, North Riverside, a neighborhood in Jacksonville, Florida, still shows the influence of these historical policies that made it difficult for low-income and minority residents to get approval for home loans. Generations of discriminatory housing practices and disinvestment have made the community especially vulnerable to the impacts of climate change, including extreme heat, flooding, and high winds from major storm events.
Homes in Jacksonville's urban core were not built to withstand the impacts of climate change. Frequent flooding from McCoy's Creek has led to long-term property damage, including leaks and mold. Lack of insulation in many homes in North Riverside increases residents' risk of heat-related illness. In 2017, high winds and flooding from Hurricane Irma destroyed roofs and significantly damaged many homes. Residents, already financially stretched, had few resources to pay for repairs and discovered that their homes did not qualify for federal weatherization or energy efficiency programs.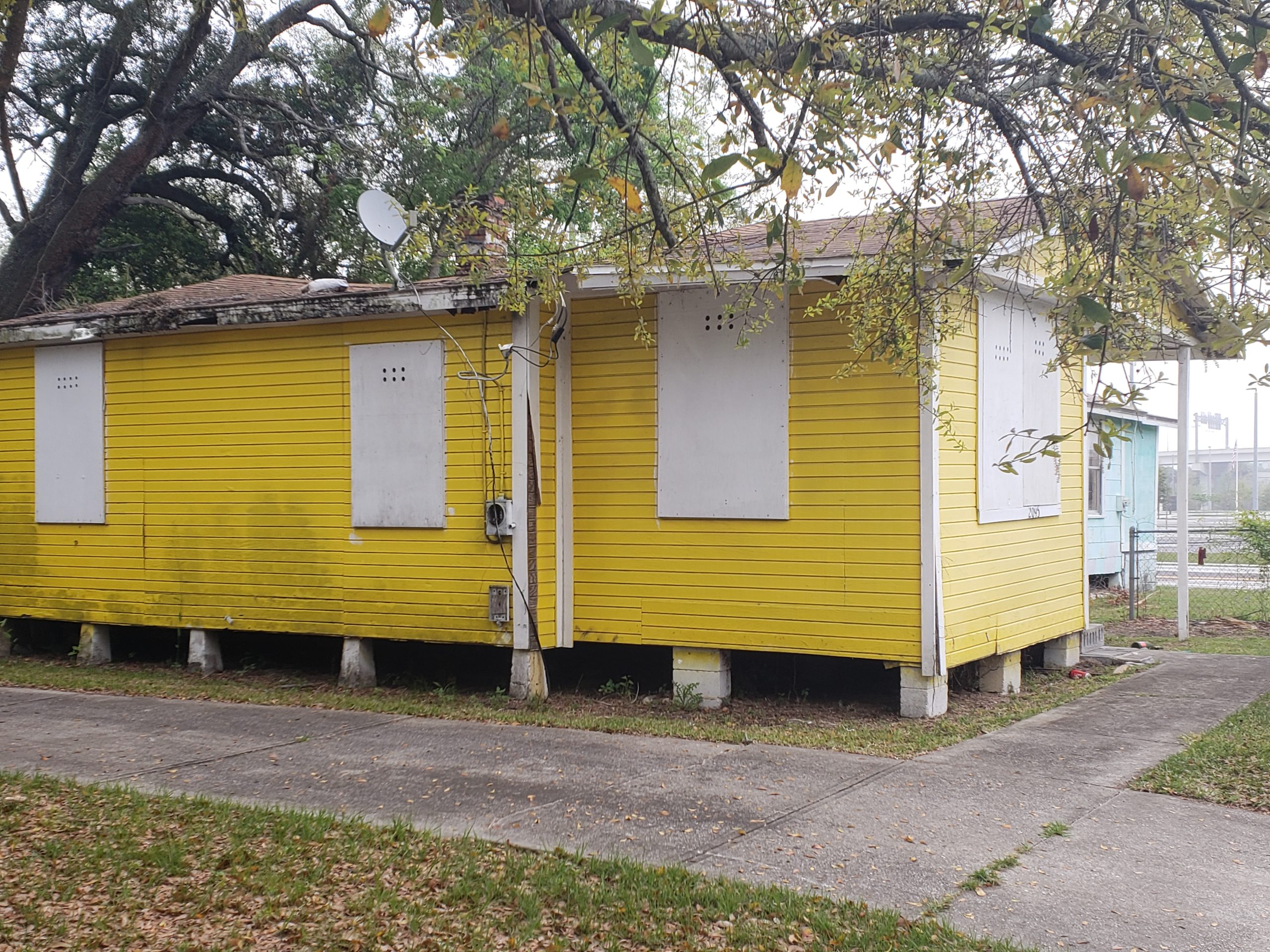 ---
The birth of the home repair program
The constant flooding of McCoys Creek has caused lots of damage to roads and homes nearby. After planning to address this issue for many years, the City of Jacksonville partnered with Groundwork Jacksonville (GWJax) to help create a solution to the flooding.
In 2018, GWJax began working with a design team and meeting with resident focus groups to generate preliminary ideas to rectify flooding in the neighborhood. They hosted a Creek Festival for residents to see the initial ideas sketched out visually on a map and to provide real-time input into the concept.
As the GWJax team continued to connect with residents through different community outreach efforts, they discovered that many were skeptical about the intentions behind the creek restoration projects and concerned about the potential impact of gentrification as the neighborhood became more livable. They needed something to be done about the flooding because it had been impacting their lives, but would they be able to afford to stay in their homes if these changes were made?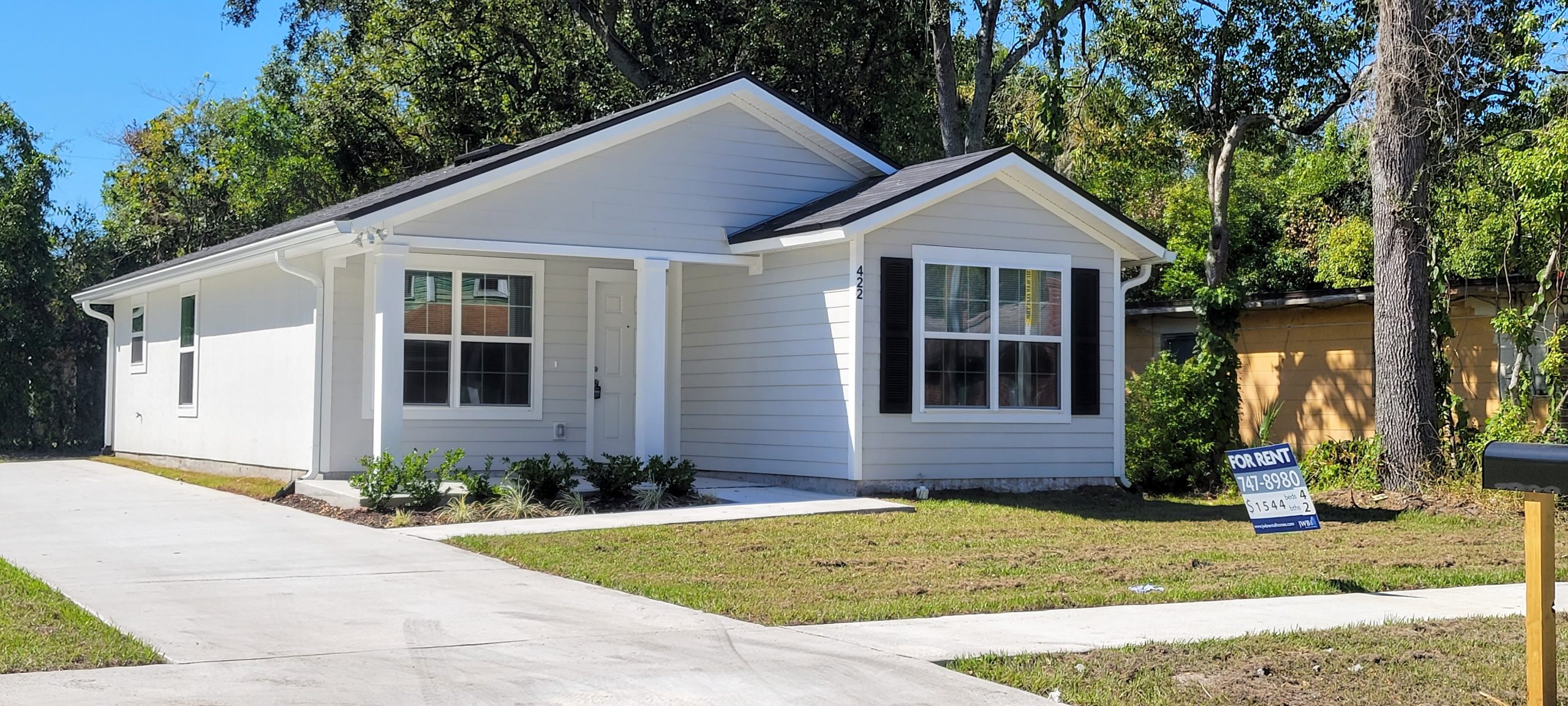 Groundwork Jacksonville's Manager of Community Engagement and Equity, Gloria McNair, explains that the project could only "move at the speed of trust." So, after hearing these initial concerns, the team decided to dive deeper to identify the community's major concerns and begin the process of creating a community-led Equity Development Action Plan. Groundwork Jacksonville established a community steering committee and worked with residents to align community priorities with their shared vision for the future of their community.
Four primary areas of concern emerged from the steering committee's work:
Housing
Economic opportunity
Environmental stewardship
History & culture
Residents were excited about what their community would look like with better housing, economic opportunities, and greater access to green spaces. Specific committees were created to address each of these issues in depth. Groundwork Jacksonville and its partners, including the North Riverside Community Development Corporation (NRCDC) and Local Initiatives Support Corporation (LISC), Jacksonville used feedback from these committees to inform the North Riverside Equitable Development Plan and figure out how best to address climate vulnerabilities.
While many of these areas of concern require long-term, systemic change, GWJax wanted to help residents in the short term, too. They determined that establishing a home repair program was the most straightforward and impactful way to simultaneously address housing, economic, cultural, and environmental considerations. By working with partner organizations that had relevant experience with home repair work, the program infrastructure was already in place, and GWJax knew they could get an effective program off the ground relatively quickly. Plus, simple home repairs can have large payoffs in terms of climate resilience and economic savings, as well as improve community members' health and quality of life.
---
The basics: How does the program work?
The North Riverside Home Repair Program was born out of a clear need for affordable, accessible home repairs in the neighborhood–especially for low-income residents of color–and a strong desire among residents to maintain homeownership.
In November 2021, Groundwork Jacksonville, in collaboration with its partners, LISC and NRCDC, hosted a special workshop to get the word out about the home repair program and gauge community interest. Over 80 residents attended to learn more about what the program would entail.
In the program's first phase, participating homes will receive, on average, $15,000 in repairs, based upon need. Potential repairs include roof replacements; fixing damaged walls, floors, windows, and doors; repairing bathroom and kitchen fixtures and electrical, plumbing, and HVAC systems; mold remediation; exterior finishing and repainting; and landscape and tree maintenance work.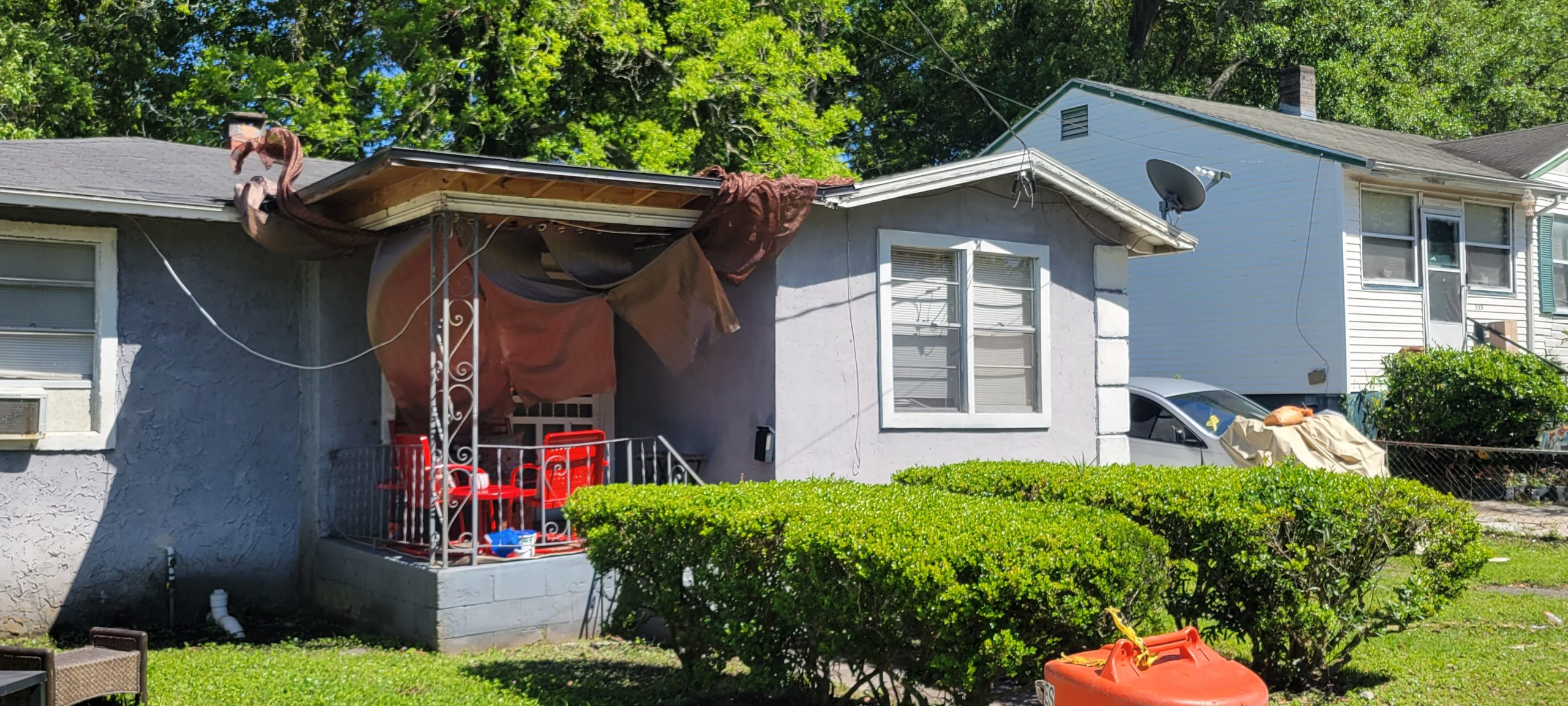 To be eligible for the home repair program, residents must own their home, live in North Riverside (between Beaver Street, I-10, I-95, and Thompson Street) year-round, and be up to date on their property taxes. In the first round, 20 eligible homes have been identified in the North Riverside community, and 15 will be chosen to receive repairs based on the highest level of need. Homes with residents who are veterans, disabled, seniors, and/or who have children under 18 will be prioritized for repairs.
In addition to these criteria, GWJax is also considering where their home repair work can have the most significant impact. Gloria explains, "If we could do 3 to 5 homes within the same block, it has a cumulative effect, and people can see, 'Oh wow, they really are doing this.' It helps with trust-building and lets the residents know there are people working with them, trying to help them."
---
Teamwork makes the dream work
This home repair program is possible only because of intentional nonprofit collaboration across the city. LISC Jacksonville had already been doing home improvement work in the city to repair damage from Hurricane Irma. That experience has been very valuable for getting this new home improvement program up and running. NRCDC is hiring a case manager, funded through a grant received by Groundwork Jacksonville, to help select the homes for the repair program and ensure that eligible residents have clear home ownership with no outstanding taxes. Groundwork Jacksonville has also brought on a construction manager who will lead the on-the-ground work of the program. The manager will hire contractors from the community as much as possible to provide residents with economic opportunities and experience – another major priority for North Riverside residents.
The impact
In the first round of the program, Groundwork Jacksonville aims to provide repairs for 15 to 20 homes in the North Riverside area, with the long-term goal of creating a sustainable, permanent program that can be passed on to the leadership of NRCDC. By the time the program officially launches next year, there will already be three to five homes in the pipeline, ready to be repaired.
Not only will these home repairs improve the day-to-day experiences of residents, but they will also ensure equitable development in the North Riverside community. Property values are estimated to increase by ~25%, allowing residents that can stay in the neighborhood to build wealth alongside their homes. Green infrastructure additions to residential areas will help manage stormwater runoff and reduce flooding in everyday rainfall events and major storms. Weatherization and energy efficiency improvements will prepare the physical houses for more extreme weather and help reduce energy consumption, saving residents money and decreasing carbon emissions. Home repairs will help residents stay cool during summers and mitigate the health impacts of extreme heat.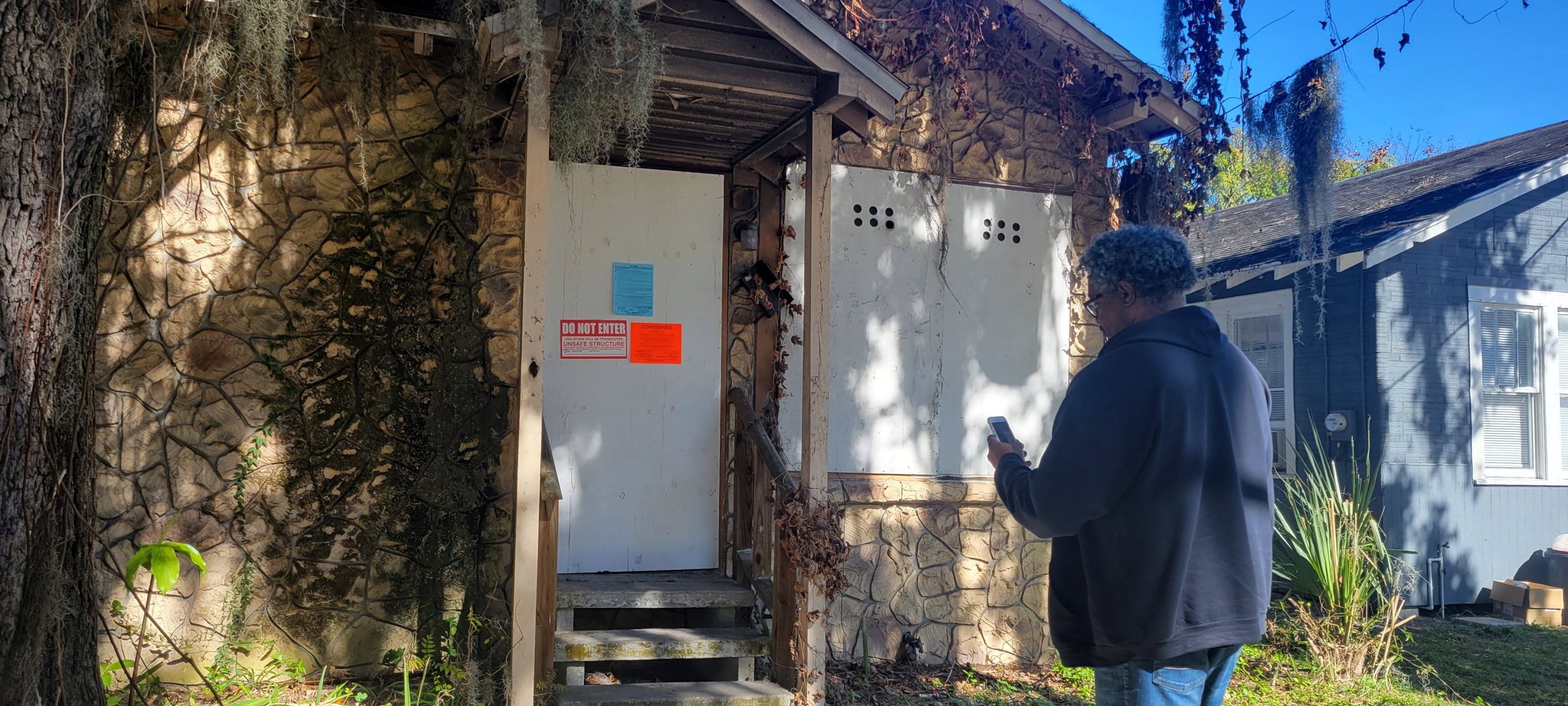 By maintaining the affordability of homeownership in Jacksonville and increasing the resilience of homes to climate change, this home repair program will allow residents to remain in place through extreme weather events and gentrification, moving the city in the direction desired by its long-time residents.
To learn more, visit Groundwork Jacksonville.