The California State Coastal Conservancy recently awarded a shared grant of $500,000 to the City of Richmond, California, The Trust for Public Land, Groundwork Richmond, and The Watershed Project to implement green infrastructure projects in Richmond neighborhoods to improve water quality, reduce flooding, cool the city, sequester carbon, and build climate resilience within the Iron Triangle and adjacent to Unity Park on the Richmond Greenway. As a part of this project, Groundwork Richmond is planting 262 trees in local neighborhoods, and The Watershed Project will build two new bio-swales!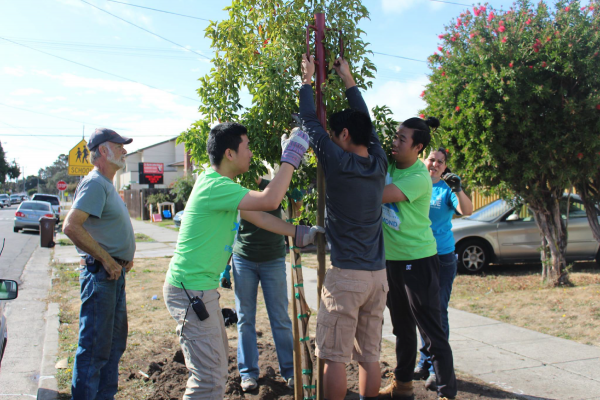 Previously, Groundwork Richmond and the City of Richmond were awarded funding from the California Department of Forestry and Fire Protection (Cal FIRE) to increase the urban tree canopy and plant 750 trees city-wide. However, much more work is needed to plant in the 12,000 opportunity sites listed in Richmond's current tree inventory, especially in the most underserved communities, which have the lowest percentage of green space in the city. The Coastal Conservancy grant will provide the resources necessary to expand this work in the communities that need it most.
Trees planted will be drought tolerant and hardy to accommodate changing weather conditions. Street trees will collectively reduce atmospheric pollutants, like carbon, by 14,744.1 pounds/year. Increasing the urban forest will also combat high rates of pollutant gases and asthma in the Richmond community.
Groundwork Richmond will be responsible for planting and ensuring that trees stay healthy for a minimum of two years after they're planted (the toughest period in the life cycle of a tree). Additionally, The Watershed Project will take on the role of building rain gardens and vegetated swales to alleviate neighborhood flooding and filter polluted street runoff, as well as educating and engaging the community on the impact of these green infrastructure systems. Work is scheduled to be completed by early 2019.
About the California State Coastal Conservancy
The Coastal Conservancy is a state agency established in 1976 to protect and improve natural lands and waterways, help people get to and enjoy the outdoors, and sustain local economies along the length of California's coast and around San Francisco Bay.
–Morgan Valdivieso is Groundwork Richmond's Communications Coordinator