This past May, a group of 6th and 7th graders from Community School 13 in Yonkers, New York, gathered around the milkweed in their schoolyard garden. Youth working with Groundwork Hudson Valley's Green Team and Green Rangers had built the garden the year before. Now Roger Osorio, Groundwork Hudson Valley's Youth Programs Associate, was teaching the students how to weed, water, and prune the "Pollinator Plaza," as they would be responsible for keeping it up going forward. For these middle schoolers, most new or first-generation Americans, learning about the migrating pollinators brought to mind the experience of their own families, most of whom had immigrated to the US.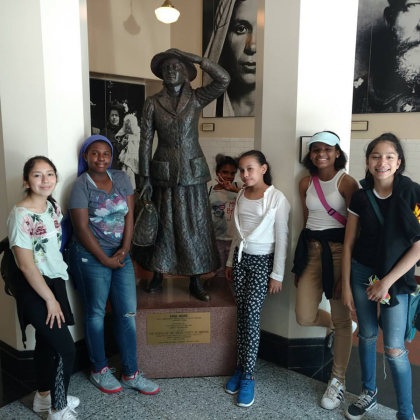 Along with plant identification and maintenance techniques, Roger introduced the students to the concept of public lands to connect the school's public garden space to other public lands, like national parks, that they could visit. Only one of these students had ever been to a national park or national historic site. A few weeks later, the middle schoolers and some of their parents boarded the Staten Island Ferry with Roger to explore three nearby National Park Service sites: Castle Clinton, the Statue of Liberty, and most importantly, Ellis Island, to learn more about the history of US immigration. On the ferry ride home, many students told Roger they were eager for more national park adventures.
The youth and their families were participating in a "Roots in Your Backyard" project that Roger had designed as an urban ambassador with the Mountains to Main Street (M2MSt) program, a collaborative partnership between Groundwork USA, the Student Conservation Association, Teton Science Schools, Grand Teton Association, and the Grand Teton National Park Foundation. M2Mst was created to expand the professional experience of young conservation leaders and connect the next generation of stewards, advocates, and visitors to national parks, starting in the cities where they live.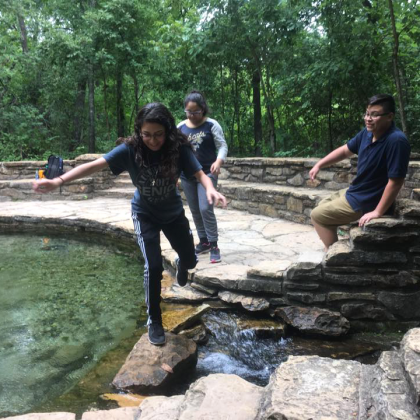 Back in February, Roger and nine other youth leaders from Groundwork Trusts across the country had attended a week-long Mountains to Main Street (M2MSt) training in Grand Teton National Park. While honing their leadership, planning, and community engagement skills, the young staffers planned projects, tailored to the needs of their home communities, to connect them with nearby, but unfamiliar natural, cultural, and historic National Park System resources that exist in their own backyards.
Mountains to Main Street meets Americans where 81 percent of us live—in cities—and helps bridge the gap in awareness of and access to national park opportunities in urban communities.
"In my opinion, this program is vital in helping to ensure that our national parks are relevant to all Americans," says Curt Collier, Groundwork USA National Youth Programs Director. "What makes the program unique is that rather than focus on the wonderful assets a park might have—beautiful vistas, recreation opportunities, museums and interpretation sites, etc.—our Mountains to Main Street participants are trained to focus on the needs of the communities we serve and then to use the assets of their local national park to help meet those needs."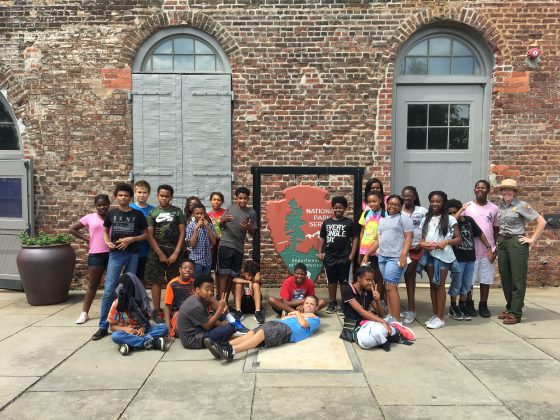 Leveraging the leadership and community-mobilization expertise of Groundwork Trust practitioners is key to the program's success. "The ongoing relationships Groundwork cultivates with the youth is essential!" according to Megan Kohli, Program Manager for Youth, Outreach, and Volunteers at Grand Teton National Park. "We couldn't make these Mountains to Main Street experiences so meaningful without the Trusts' long-term commitment to the neighborhoods. The ambassadors know the community and the youth and what they need. That deep understanding would take years for a park ranger. The relationship makes Mountains to Main Street about participants, not parks."
This year, Groundwork urban ambassadors designed M2MSt projects to help young people and adults with job readiness, career development, dealing with trauma, personal development, community integration, self-awareness, gender and sexual orientation support, and other needs.
Lawrence, MA youth create Mountains to Main Street mural celebrating local culture and resilience. Photo: Groundwork Lawrence

Eric Lundquist, Groundwork Lawrence DOI/AmeriCorps VISTA team member, project with the Groundwork Lawrence Green Team, most of whom identify as immigrants. Over the course of two days at the Lowell National Historic Park in Lowell, MA, the youth explored the story of the single girls and immigrants who worked at the textile mill, which was also the site of the famous Bread and Roses strike. The group discussed the issues and challenges they learned about, how they have—or haven't—changed in our day, and how they relate to the youth's neighborhoods and families. The third day, the group created a mural celebrating their local culture and resilience. The mural, which will be displayed at local events, such as the Bread and Roses Festival, features butterflies (symbols of migration and beauty) and a rose (symbol of Lawrence history and worker's rights).

To address the need for positive stories about African Americans and encourage openness to new experiences, Groundwork RVA Green Team Manager Kendra Norrell brought 23 seventh graders from the Binford Middle School Higher Achievement Program to Richmond's Tredegar Iron Works and Civil War Museum to learn more about African-American history. Over the course of the day, the youth took a historic canal cruise, joined a ranger walk to learn about the importance of the St. James River for historic and modern RVA, and explored the Tredegar Civil War Museum. Reflecting on the experience, Norrell says, "The most meaningful part is the fact that they now know what the National Parks are and have a genuine desire to return with their families."
Melissa Guevara, Groundwork Dallas Youth Program Coordinator (and former Groundwork Hudson Valley Green Team member) wants to ensure that everyone has the opportunity to learn about and enjoy public lands. According to Melissa, the youth she serves rarely leave their neighborhoods, and their parents can be very nervous about letting them go do these things. To teach Dallas high school students about new scientific careers and the joys of outdoor recreation, Melissa brought them to the Chickasaw National Recreational Area for a day of hiking, swimming, creek walks, and nature and wildlife exploration. The teens also had the opportunity to speak with paleontologists and curators at a paleontology career discovery day at Waco Mammoth National Monument and its Dallas counterpart at the Perot Museum. For some, it was their first time visiting a natural history museum.
Learn more about the 2017 Urban Ambassadors' Mountains to Main Streets projects and about the accomplishments of the M2MSt program.