Community members will hit the streets of Yonkers, New York, this August to collect real-time data about the city's hottest places as part of a national effort to map areas where people are most at risk during extreme heat waves. Yonkers is one of 10 US cities where the National Oceanic and Atmospheric Administration's Climate Program Office will support the citizen-science campaign to map urban heat islands.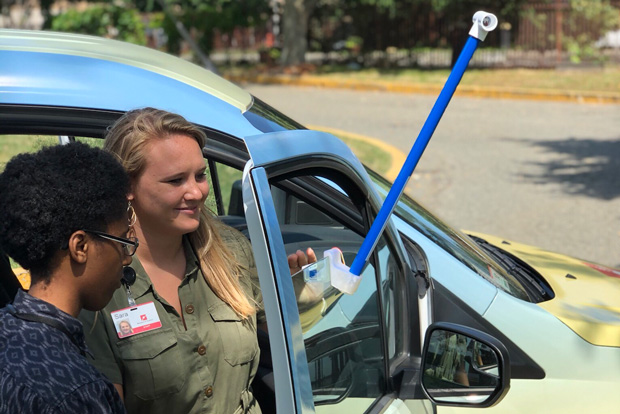 Municipalities were selected based in part on their readiness to mobilize community members to run the mapping campaign and on their ability and willingness to use the heat maps produced by the campaign to build resilience to extreme heat. Other cities involved in this effort include Boston, Cambridge, Brookline, and Worcester, Massachusetts; West Palm Beach, Fort Lauderdale, and Miami, Florida; Seattle and King County, Washington; and Honolulu, Hawaii.
Working with equipment, methodology, and collaborators from CAPA Strategies and the Science Museum of Virginia, Groundwork Hudson Valley will mobilize community members to drive pre-selected routes through Yonkers three times in one day, collecting temperatures and GPS locations every second. Using specially designed thermal sensors mounted on their own cars, these citizen scientists will drive prescribed routes to record ambient temperatures and humidity. Collaborators will process the gathered data to produce high-resolution maps of temperature in the morning, afternoon, and evening across the city. Groundwork Hudson Valley and the City of Yonkers will then use the maps to promote resilience-building actions.
Youth from the Groundwork RVA Green Team were actively involved in a previous citizen science campaign to map urban heat in Richmond, Virginia, neighborhoods. The results from that and community heat assessments conducted in Baltimore, Maryland, and Washington, DC, are already being used to inform planning for extreme heat in those cities. The data collected from this new campaign will be instrumental in finding the most effective solutions for Yonkers residents.
In the US, heat waves injure more people than all other natural disasters combined. By measuring temperatures in tens of thousands of locations throughout the city, Groundwork Hudson Valley and the City can identify what areas of Yonkers are hottest and the reason behind those patterns.
"As heat waves increase in frequency, duration, and magnitude, engaging communities in such collaborative science efforts will help us know which communities will face the greatest burden, and engage those communities in taking proactive actions," said Yonkers Mayor Mike Spano. "That knowledge will also help us develop preventative measures, involving organizations working in parks, sustainability, and public health to safeguard communities and infrastructure."
Keeping cities cooler can involve a variety of actions, such as
opening more public air-conditioned spaces;
removing or whitewashing large areas of black asphalt or roof surfaces;
adding more trees for shade; and
implementing urban designs to increase natural airflow through hot neighborhoods.
Groundwork Hudson Valley will provide training and orientation for community members interested in participating in the community heat mapping campaign. Click here to learn more.
–Brigitte Griswold is the Executive Director of Groundwork Hudson Valley.