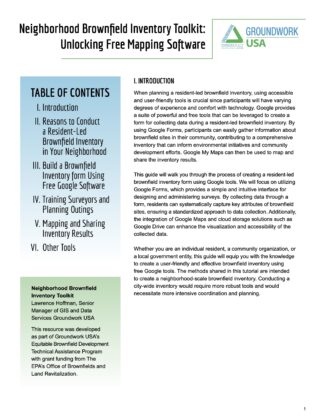 A resident-led brownfield inventory can be a powerful tool enabling community members to actively participate in identifying and addressing environmental issues in their neighborhoods. Residents can contribute to the improvement of their local environment, advocate for remediation efforts, and promote sustainable community development.
When planning a resident-led brownfield inventory, using accessible and user-friendly tools is crucial. Google provides a suite of powerful, free tools that can be leveraged to create a form for collecting data during a resident-led brownfield inventory.
This guide walks you through the process of creating a resident-led brownfield inventory form using Google tools. Whether you are an individual resident, a community-based organization, or a local government entity, this guide will equip you with the knowledge to create a user-friendly and effective brownfield inventory.
Learn more about Groundwork USA's robust technical assistance program to support equitable development and environmental justice pursuits in brownfield-affected communities.