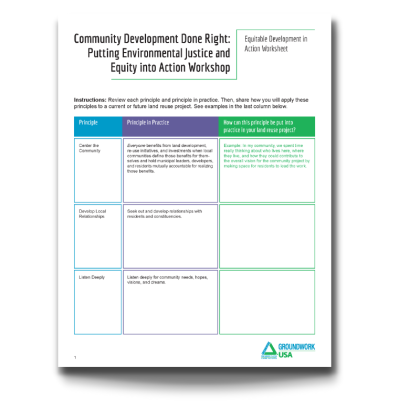 Integrating environmental justice and equity practices into your land reuse strategy requires intentional planning and strategic action.
This worksheet is designed to help you develop your equity action plan by building you through the process of translating core environmental justice principles into strategic action.
The exercise guides you to think about:
The different types of equity practices;
How each of these practices translate to meaningful action ;
How these principles can be integrated within the context of your land reuse project.
This resource was created as part of our Community Development Done Right training. (Re)visit the webinar if you want more detailed support.
THANK YOU TO THE EPA BROWNFIELDS AND LAND REVITALIZATION PROGRAM FOR PROVIDING GRANT FUNDING TO SUPPORT GROUNDWORK USA'S BROWNFIELDS AND EQUITABLE DEVELOPMENT TECHNICAL ASSISTANCE PROGRAM.