Earth Month at Groundwork USA
invest In Our Planet, Invest in our future
Over five decades ago, the first Earth Day event launched an international movement that paved the way for air, water, and biodiversity victories! While we now spend every April celebrating the progress we've made, the reality is that we have a long way to go.
Extreme heat, frequent flooding, poor air and water quality, and lack of access to greenspace are still the daily reality in many communities, especially communities of color. With climate and environmental disasters making headlines constantly, we urgently need to increase investments in our planet for a healthy, safe and climate-resilient future for all!
At Groundwork USA, we believe everyone should be able to enjoy clean air and water, have access to healthy green spaces, and live free from the impacts of the climate crisis. To address the growing environmental impacts on frontline communities, we're taking action by investing in resident-led solutions that improve climate resilience, health, and safety for all.
As we celebrate Earth Month, we encourage you to join the conversation! 
Let the world know why YOU choose to Invest in Our Planet!
---
There are Three Ways You Can Help Support The Movement 

Join the Conversation:
All month long, we'll be sharing what inspires us to invest in our planet, and we want to hear more about what inspires you!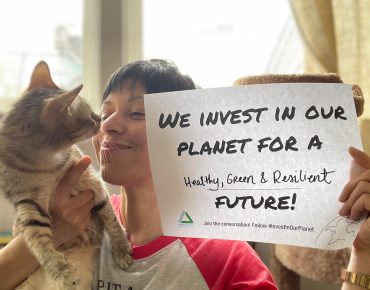 Print out the ready-made flyer. No printer? No problem! Grab some paper and a marker and DIY it!
Fill in the blank: Choose a word that describes the kind of future you invest in, and fill in the blank!
Take a selfie: With your message ready, take a selfie or use an outdoor background. Then post it on your social media profile with the hashtag #InvestInOurFuture and tag us @GroundworkUSA on Instagram and Facebook.
Send us your photos: If you don't want to post directly on your social accounts, you can also send us your photo and we will do the rest!

Spread the Word! 
It's going to take a village to protect our people and planet. Like and share our photos and spread the word about our campaign with others to help inspire action and help grow the community of Environmental Justice Champions!

Support Our Work! 
Support the creation of healthy, green, and resilient spaces for all! Your donation goes towards building climate-resilient infrastructure, supporting career opportunities for youth, and creating community assets like parks and green spaces.
Earth daY EVENTS AT groundwork Trusts
---
Groundwork Denver
When: Two day event: Friday, April 14th & Saturday, April 15th, 9 AM – 2 PM MT
Where: Sheridan, Colorado (exact location given upon registration)
What: Volunteer with Groundwork Denver and City of Sheridan to plant 100 trees for Earth Day, over two days! There are currently two roles for volunteers: Crew Leads and Tree Planters. They are seeking volunteers who are (1) from Sheridan, and (2) who want to participate as tree planters on 4/15/23. 
Learn More and Register to Join! 
---
Groundwork Elizabeth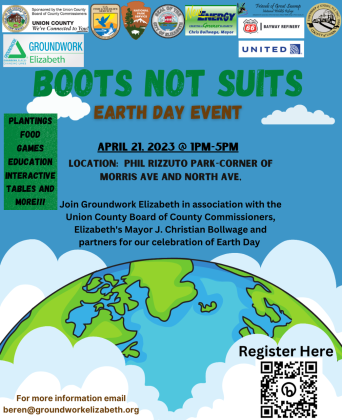 When: Friday, April 21st, 1 PM – 5 PM ET
Where: Phil Rizzuto Park, Elizabeth, New Jersey
What: Join the Union County Board of Union Commissioners, Groundwork Elizabeth and partners for our Earth Day Event at Phil Rizzuto's Outdoor Nature and Education Center! There will be: Tree Plantings, Litter Removal, Plant Giveaways, Games, Info Tables and more!
Register Here to Join the Celebration! 
---
Groundwork Atlanta
When: Saturday, April 22nd from 9 AM to 12 PM ET
Where: The exact address will be provided to registered volunteers a few days prior to the event.
What: Groundwork Atlanta and Chattahoochee Riverkeeper is hosting a river cleanup to continue their efforts toward a Trash-Free Chattahoochee! Gloves and cleanup supplies provided.
---
Groundwork Richmond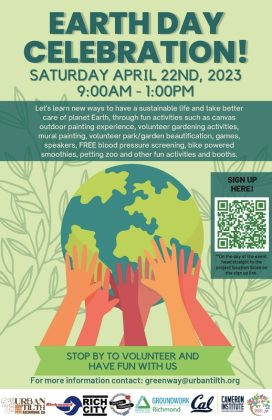 When: Saturday, April 22nd, 2023 from 9 AM – 1:00 PM PT
Where: Unity Park, Richmond, CA 
What: Take better care of planet Earth and celebrate Earth Day with fun activities such as outdoor painting, gardening activities, mural painting, park/garden beautification, games, speakers, FREE blood pressure screening, bike powered smoothies, petting zoo and other fun activities and booths.
---
Groundwork RVA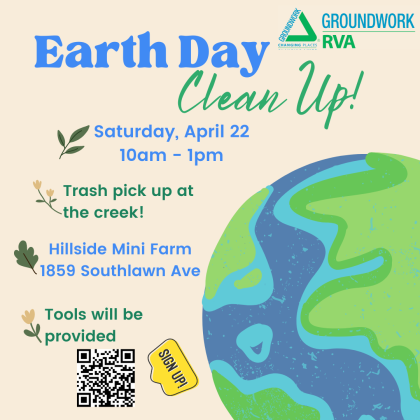 When: Saturday, April 22nd, 2023 from 10 AM – 12:00 PM ET
Where: The Creek at Hillside Court, 1859 Southlawn Ave, Richmond, VA 23224
What: Groundwork RVA is hosting an Earth Day Clean Up Event! They will be picking up litter and trash around the creek at Hillside Mini Farm to help beautify the area and celebrate our great places of nature. Tools will be provided.
---
Groundwork Hudson Valley
When: Saturday, April 22nd from 10 AM to 1 PM ET
Where: Multiple sites available upon registration!
What:  Groundwork Hudson Valley is organizing The Great Saw Mill River Cleanup! Community members will gather to join forces and help clean and protect the area by removing items like plastics, invasive vines, construction materials, and debris from the river.
Register Now and Join the Celebration!
---
Groundwork Somerville
When: Saturday, April 22, The workday is 10AM-12PM ET, celebration afterwards is from 12-2PM ET
Where: 138 South St., Somerville, Somerville, MA
What: Groundwork Somerville is hosting a 2023 Earth Day Workday and Celebration! Spend your morning volunteering at our workday building new garden beds and cleaning up trash and invasive species. There will be a post-workday celebration with a scavenger hunt, farm tours, and a variety of activities led by the GW Somerville team and other organizations! Light refreshments and live music will be provided. Only 20 volunteers are needed for the morning, but all are welcome for the afternoon celebration. 
Register to Join the Workday or RSVP for the Celebration!
---
When: Saturday, April 29th from 8 AM -1 PM ET
Where: Campagnone Common, Lawrence, MA
What: Groundwork Lawrence is hosting their annual city-wide cleanup event for Earth Day. They welcome volunteers of all ages, businesses, schools, non-profits, and community organizations who are ready to clean up around the city and help make our open spaces beautiful!
Click Here To Register and Learn More!
---
☑️ Check back here for more upcoming Earth Day events!
Please contact roxanne@groundworkusa.org for any questions you may have!
#InvestInOurPlanet
View this post on Instagram