Last week, included among several judicial decisions impacting indigenous sovereignty, bodily autonomy, and civil rights, the Supreme Court made the disappointing decision to limit the EPA's ability to fulfill its mandate to protect human health and safeguard the environment in communities that have a legacy of harm associated with industrial operations. This decision decisively limits the ability of the EPA to fight climate change and protect our people and planet from the social, health, and environmental costs of dangerous emissions.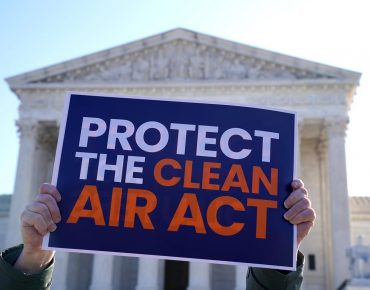 While we should all care deeply about this decision, we know that the costs of pollution have never been shared equally.  Communities of color, immigrant families, indigenous peoples, the elderly, and low-income families are significantly more likely to live in neighborhoods near industrial sites or along highways. These communities will continue to be hit first and worst by respiratory diseases caused by polluted air, illness from contaminated waters, and extreme heat, fires, and flooding caused by the climate crisis.
As the climate crisis accelerates- this year will be the coolest on record for at least the next century- we need an all-hands-on-deck approach to limit the harm in our most exposed communities. This Supreme Court decision makes it harder to take national action to protect the planet and its people. While disheartening, this decision affirms what we have long known – local action is critical to our pursuit of a more just and climate-resilient future.     
At the local level, we have the collective capacity to enact solutions that increase safety, resilience, and well-being. For decades Groundwork Trusts have demonstrated what is possible when we invest in locally-driven change. Through community-driven organizing, advocacy, and action, Groundwork Trusts and residents have achieved policy, budgetary, and infrastructure investments that reduce the inequitable impacts of the climate crisis. By connecting the dots between history, housing, race, and the climate crisis, we've demonstrated that community-led climate action can bring our vision for a more just future to life.
After back-to-back decisions and events that threaten our health, safety, and livelihoods, there is the additional threat of losing hope- of thinking that no change is possible under the current system. This moment calls on us to banish that despair in the name of our ancestors, future generations, and ourselves. We are capable of remedying the harm done to our most vulnerable communities and are capable of keeping that harm from happening again.
To do so, we must commit to prioritizing the health, well-being, and leadership of people in vulnerable neighborhoods. We must act at the local level leveraging storytelling, data, and community organizing to find and enact the solutions that will have the greatest impact on people's day-to-day lives. We must invest in collective climate action now by supporting organizations at the intersection of environmental justice and human rights and stand with the communities on the frontlines – those reimagining and fighting for a better world for all.
This work has never been more important.
-Cate Mingoya-LaFortune 
National Director of Climate Resilience and Land Use