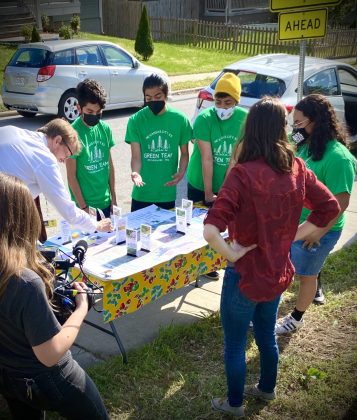 We are excited to announce that Groundwork USA has awarded an additional  $1.6M in grants to five Groundwork Trusts to implement innovative land restoration projects in urban communities that meaningfully reduce the impact of climate-related extreme heat and flooding as part of our Climate Preparedness and Land Restoration Initiative. Through this three-year effort to accelerate climate adaptation efforts, Groundwork Trusts are reimagining urban environments to address the escalating harm caused by climate change through the creation of new green spaces, expansion of the urban tree canopy, and installation of green infrastructure.
As we inch closer to the midway point of what is considered the "defining decade" for addressing climate changes, it's becoming increasingly clear that the climate crisis has forever changed the frequency and severity of extreme weather events from flooding to heatwaves.
While the 2020s are considered the last chance to make the investments to dramatically reduce emissions, this is also our last chance to invest in the nature-based resilience infrastructure that can help mitigate harm and reduce the long-term impact on health and livelihoods
The day-to-day burden of navigating an increasingly hotter, more disaster-prone reality is not shared equitably. Neighborhoods with fewer trees and less green space get hotter than those with tree-shaded sidewalks and breezy green spaces. Communities with a lot of pavement or limited stormwater infrastructure flood more frequently – and stagnant water sticks around longer – than those with green spaces, permeable surfaces, or higher-quality infrastructure. Overwhelmingly those communities are today home to communities of color and low-income families.
Through the Climate Preparedness and Land Restoration Initiative, made possible with funding from the Bezos Earth Fund, thirteen Groundwork Trusts have now been awarded a combined $4.7 million to implement large-scale land restoration projects that lay the foundation for a more climate-safe future.  Each of these projects advances priorities voiced by people living on the frontlines of the climate crisis to create healthier, more resilient places to live while laying the foundation for shifting how critical climate adaptation resources are allocated across cities.
"We are delighted to have this opportunity to support the Groundwork Trusts' work to create healthier, safer, and more resilient communities through investments in large-scale land transformation efforts. The projects supported through the Climate Preparedness and Land Restoration Initiative model the important role climate adaptation and urban land restoration have in the broader conversation about climate resilience and maintaining a healthy and livable planet. We are thrilled to see Groundwork Trusts increase their leadership in this essential work."

Heather McMann, Executive Director, Groundwork USA
The 2023 awardees of the Climate Preparedness and Land Restoration initiative include:
Groundwork Jacksonville (FL): To retrofit more than 23 owner-occupied homes with green infrastructure, including cool roofs, gutters and downspouts, rain barrels, and rain gardens, and convert two vacant public lots into a park with both stormwater infrastructure and shade trees.
Groundwork Lawrence (MA): To expand its urban forestry work and address the stark tree inequities across the city, by increasing outreach to the Lower Tower Hill neighborhood.
Groundwork Milwaukee (WI): To implement climate resilience and mitigation infrastructure, including bioswales, trees, garden installations, and stormwater management systems, on five pocket park sites built by their Ground Corps workforce development program participants.
Groundwork NRG (Kansas City, KS): To support the installation of a green infrastructure framework in the Jersey Creek watershed as part of the recently adopted master plan for the Northeast Kansas City, KS Heritage Trail.
Groundwork RVA (Richmond, VA): To integrate climate resilience infrastructure into the construction of a new affordable housing complex currently under construction in a neighborhood disproportionately vulnerable to extreme heat.
Since launching the initiative in mid-2022, Groundwork Trusts have engaged over 1250 residents and 223 youth in the creation and revitalization of more than 57 acres of greenspace, 5.7 miles of trails, paths, and sidewalks, and stewardship of nearly 2 miles of urban waterways.
"The pathway to a climate safe future depends on our ability to reimagine the urban environment to create new, nature-based systems to protect people from the harshest impacts of the changing climate," shares Senior Manager of Equitable Climate Resilience Projects, Bruce Strouble. "By working hand-in-hand with community members to prioritize and implement climate adaptation projects, we're showing that investments in grassroots, community-centered, land revitalization efforts is the most efficient way forward for both people and the planet."
To learn more about the Climate Preparedness and Land Restoration program:  https://groundworkusa.org/climate-preparedness-and-land-restoration-initiative/
#######
Groundwork USA is the national capacity-building organization for a cross-country network of people-centered environmental justice organizations working hand-in-hand with residents to transform environmentally disadvantaged urban neighborhoods into communities that are healthy, green, and resilient. For over two decades, we have worked to undo the legacies of poverty and racial discrimination and build the capacity of communities to effect change in the natural and built environments in which they live. We do this by developing community-based partnerships that empower people, businesses, and organizations to promote environmental, economic, and social well-being.