What will change the face of conservation in America? Traditional job pipelines and training programs don't reflect the diversity of our nation and could yield environmental leadership for tomorrow that looks similar to yesterday.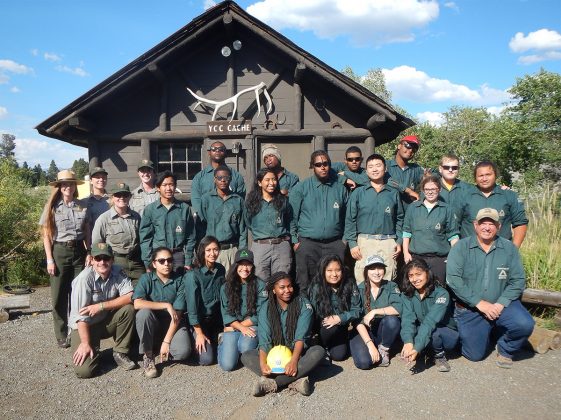 Why does this matter? Many Americans are missing out on the many benefits public lands offer. As one writer observed in a New York Times op-ed, "For big segments of this country's increasingly diverse and urban population, especially its young people, the parks seem either irrelevant or remote places where they may not be welcomed. Persuading them otherwise will determine the parks' future." We need conservation specialists that reflect the diversity of this great nation.
Fixing the "diversity gap" is a challenge the National Park Service (NPS) has embraced. In 1998, NPS and the US Environmental Protection Agency founded the Groundwork USA network to create green spaces in post-industrial cities, revitalize urban waterways, and restore brownfields that hinder community development. Working at the intersection of environment, equity, and civic engagement, Groundwork USA and a network of 23 local affiliates, or Trusts, work with residents of marginalized communities to transform neighborhoods into green, healthy, resilient places where all can thrive.
This community-centric approach affords Groundwork a singular opportunity to engage urban youth in conservation. In 2014, 18,731 youth—about 90% of them youth of color—participated in Groundwork USA programs. Our rate of success in connecting urban youth with the parks is unrivaled.
How do we do it?
Most of our youth first experience a National Park through Groundwork. Few know people who work on or visit public lands. If they have visited a National Park or wildlife refuge, they probably didn't see many people who "look like them." Yet they soon come to regard the parks as theirs.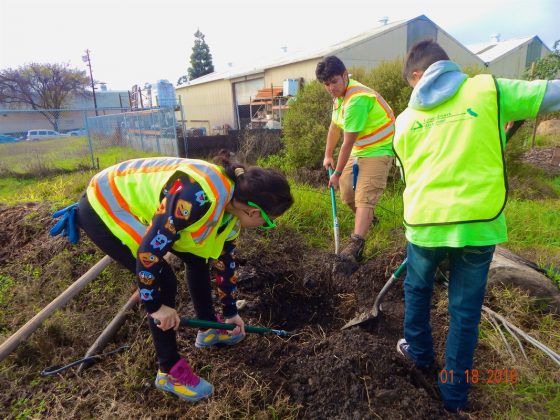 Groundwork starts by engaging young people in conservation and restoration work close to home, in places that matter to them. We create opportunities in school-based and after-school environmental education and service-learning activities. Our programs for high school youth combine conservation skill and leadership development, service, and paid employment. Groundwork Trusts partner with dozens of National Parks in and near their communities—identifying and removing invasive species in Jean Lafitte National Historic Park and Preserve, restoring gardens at Weir Farm National Historic Site, and transplanting native vegetation in Rocky Mountain National Park, to name a few examples.
With satisfying work comes a new appreciation of nature and the importance of conservation. As Groundwork Jacksonville Green Teamer Eduardo Soriano-Guzman observes, "When local youth clean up their own environment, they fall in love with it. They see why it needs to be preserved. Protecting their local park or river will make them want to see other natural places preserved as well."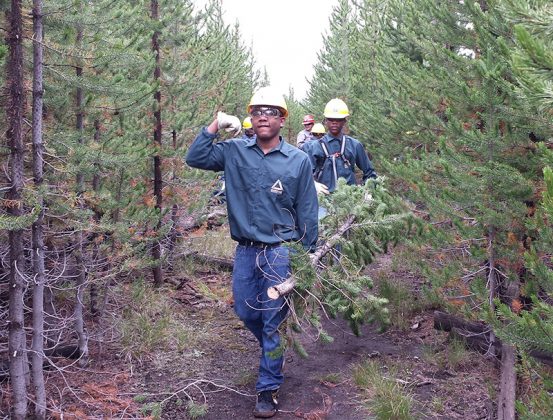 Many Groundwork youth then travel to some of America's iconic public lands, including Rocky Mountain, Grand Teton, and Yellowstone National Parks. Our Yellowstone corps program, for example, initiated in 2012, brings youth from across the country for a week of habitat restoration and trail-building, learning, and exploration alongside NPS staff.
Having begun environmental work and learning in their communities, Groundwork youth arrive motivated and well-prepared. More than tourists, the youth complete essential projects, helping reduce the backlog of deferred maintenance. Seeing the result of that work, they experience not just pride, but a sense of belonging and ownership of places that could otherwise feel uncomfortable. Their experiences in National Parks provide a context for their work at home and a sense of themselves as part of a national movement.
For the new urban environmental agenda, new leaders
Groundwork is America's urban conservation corps. While Groundwork youth learn to build hiking trails, install bear boxes, and use crosscut saws, they also develop skills they can apply close to home.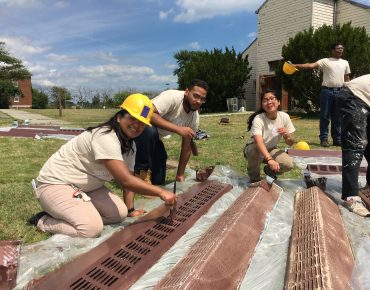 In July 2016, nearly 60 youth and youth leaders from Groundwork Trusts in New York, New Jersey, and Connecticut converged on Fort Tilden, in the Gateway National Recreation Area on New York's Rockaway Peninsula. Over the course of a week, they restored a historic chapel, engaging in carpentry, plastering, painting, and other restoration skills needed in urban communities. Throughout the project, they declared, "Wow, I know how to do this now!"
Beyond the skills and sense of mastery they develop, youth credit their Groundwork experiences in National Parks and wildlife refuges with helping them re-envision their neighborhoods as places that can be greener and healthier. As former Groundwork Hudson Valley Green Team member Ashley Perez—subsequently an NPS Seasonal Ranger and Groundwork US Board member—observes, "Yellowstone National Park is stunning, but so is the Hudson River. We just have to see it that way. Sometimes it takes hiking to the top of a mountain to see what's in your own backyard."
Partners in innovation
Groundwork USA provides opportunities to innovate in putting the NPS Urban Agenda into action. When Megan Kohli of Grand Teton National Park was charged with taking on the "diversity gap," she partnered with Groundwork USA. In 2016, 20 youth leaders from across our network became urban ambassadors through the inaugural "Mountains to Main Street" program, crafting engagement strategies to connect their communities with nearby NPS natural and cultural resources. The urban ambassadors began by exploring the needs of their communities, then developed strategies for using NPS resources to meet the communities' needs. Their goal is to forge long-term relationships between the communities and parks to mutual benefit.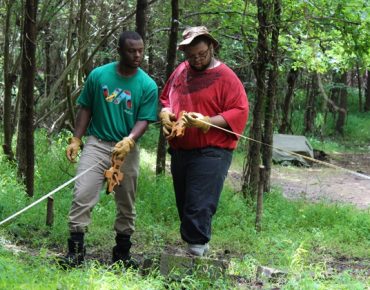 Groundwork youth are enthusiastic participants in the Urban Archeology Corps (UAC), an NPS program that helps urban youth discover and interpret their communities' history. Through archeological projects, they use excavation, interpretation, and traditional and oral history research to unearth little-known stories and strengthen connections to place. First piloted with Groundwork Anacostia River/DC, UAC had five projects underway in 2016, three with Groundwork Trusts. The youth learn the power of storytelling and narratives, and how these foster connections between newer residents and their community's past by placing both in relation to one another.
The Groundwork network has "graduated" countless youth who went on to work in public lands and conservation organizations. One Trust—Groundwork Hudson Valley—has had 16 former Green Teamers pursue environmental or urban restoration fields in college or work with public land agencies.
For every young person who has found new connections to nature, National Parks, and his or her community through Groundwork, thousands more can have the same transformative experience.
Curt Collier is Groundwork USA's National Youth Programs Director. Liz Carver is Groundwork USA's Communications and Network Development Manager.