Celebrating the Climate Justice Journey in Elizabeth, NJ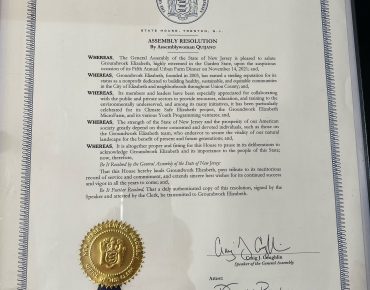 This year is shaping up to be a banner year for climate resilience efforts in Elizabeth New Jersey. Twenty twenty-two began with a resolution from the New Jersey General Assembly highlighting Groundwork Elizabeth's emergence as a key climate resilience player and environmental champion for under-resourced communities in Elizabeth, NJ, the Mayor's Youth Council is gearing up for another major tree-planting campaign in formerly redlined neighborhoods, and Groundwork Elizabeth is just about to kick-off an EPA-funded effort to study air quality in the Elizabethport neighborhood, a community built in the shadows of the largest port on the East Coast.
These wins are huge in a community that has worked tirelessly to elevate meaningful climate action into the municipal agenda. What's less obvious, though perhaps even more important to acknowledge and celebrate, is how Groundwork Elizabeth got to this level of success.
When discussing our Climate Safe Neighborhoods initiative, we spend a lot of time talking about the policy and infrastructure successes, but the reality is that we spend most of our time focused on designing a strategy that can survive the long, complex journey towards climate justice.
When Groundwork Elizabeth joined the pilot cohort of the Climate Safe Neighborhoods partnership, success was far from evident. Since joining, Elizabeth has been through multiple starts and pauses in municipal planning processes, has been at the epicenter of two COVID-19 waves, and has experienced record-breaking heatwaves and deadly hurricanes and flooding. Despite this uncertainty, Groundwork Elizabeth has completely transformed the conversation on climate justice in the city.
Their success is due, in no small part, to their relentless pursuit of climate resilience from every angle – remaining committed to their long-term goals while constantly adapting their tactics to respond to emerging needs and leverage opportunities as they arise. Underlying their Climate Safe Elizabeth program is a carefully woven net of partnership-building, organizing, and advocacy efforts that can be leveraged to open doors or gain traction even when the going gets tough. To build this platform, they have focused on:
Multi-Sector Coalition Building: The Climate Safe Elizabeth Task Force is the heart and soul of their effort. The Task Force brings together residents, businesses, community organizations, and municipal officials to discuss climate resilience challenges, identify priorities for addressing concerns, and advocate for change.

Engaging the Next Generation of Leaders: Youth voices and the youth experience are deeply integrated into their organizing strategy. Groundwork Elizabeth's youth participants lead citizen scientist projects to collect data about the impact of climate change in the communities and conduct community engagement initiatives to raise awareness about the challenges and potential solutions. Based on their efforts, the Mayor recently relaunched the Mayor's Youth Council where young people have the opportunity to propose climate resilience solutions. Last year, the Mayor signed off on the youth planting trees an unlimited number of trees in formerly redlined, climate-vulnerable neighborhoods.
Changing the Landscape: Whether it's through the construction of five green infrastructure demonstration projects at Groundwork's MicroFarm and Conservation Center or through the ~500 trees planted through the advocacy of the Mayor's Youth Council they are constantly on the search for tangible projects that drum up excitement and visually demonstrate what they mean by "climate infrastructure."
Personalizing Outreach: Not all climate solutions come in big packages. The 1% solutions that have an immediate impact on lives are equally as important and Groundwork Elizabeth has been intentional about building these touchpoints into their strategy. During the height of the pandemic, with sky-high temperatures and inaccessible cooling centers, GWE used their annual seedling distribution to connect with their network to identify heating concerns and identify small-scale solutions – like utility assistance or air conditioning exchanges – to help meet these needs.
Success can look like so many different things in climate organizing, and it's not only about the final destination. Having successfully nurtured a solid foundation, we cannot wait to see how much Groundwork Elizabeth will accomplish in the year ahead!
Three cheers for Groundwork Elizabeth!