We're trying to build a raft to ride the wave of prosperity when it comes. Who's it coming for? How can everyone living in the neighborhood benefit and not get washed away? —Kate O'Brien, Groundwork USA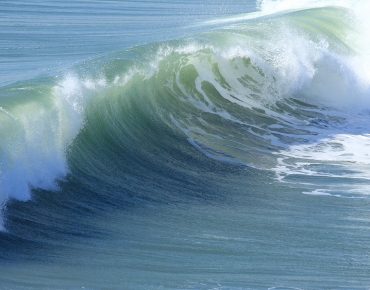 Last month, practitioners from across the Groundwork USA Network posed these questions and others as they explored the concept of "revitalization without displacement" at the 2016 Groundwork USA National Assembly in Ohio. Groundwork's National Assembly, held this year outside of Cincinnati, Ohio, provides an annual opportunity for Groundwork executive directors and program staff to meet and discuss their projects and programs, progress made, challenges encountered, and lessons learned in doing their community building work.
This year's Assembly was framed with an explicit embrace of the intersectional[1] aspects of our work: race, environmental/economic/social/racial justice, healthy and healing communities, and advancing relevance, equity, diversity, and inclusion through the work of individual Groundwork Trusts and, more broadly, in communities across our Network. Assembly attendees discovered a validating and palpable hunger in the room for getting arms around the concept of gentrification in Groundwork communities. We understand gentrification as a phenomenon whereby an influx of wealthier, usually white, residents follows neighborhood revitalization and often results in displacement of poorer longtime residents, especially communities of color, and their cultural identities and norms. But in each of our discussions, Groundwork leaders took this yearning for understanding a step further, offering ideas and identifying a need for strategies that lead to holistic neighborhood revitalization without triggering displacement and other negative effects associated with gentrification.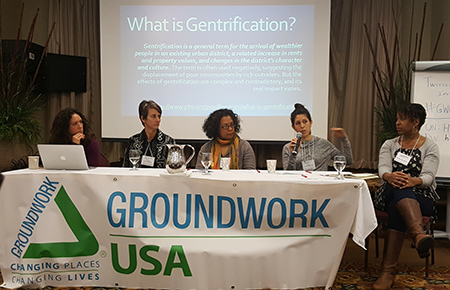 Across the board, albeit in different ways, Groundwork practitioners reported reflecting with their constituencies, board members, colleagues, and partners on what realizing "equitable development" in their neighborhood could and should look like. Some Groundwork leaders shared ways their Trusts are working to develop locally led, cross-sector partnerships and programs that meet local residents where they are by aligning access to health services, workforce development/job training and coaching programs, employment and apprenticeship pipelines, financial literacy classes, buying clubs, and more. Such coalition-driven work dovetails with Groundwork Trusts' place-based efforts to improve access to parks, gardens, trails and other quality open spaces.
Place-based transformations that both revitalize a neighborhood and invest in the residents living within it represent important moments for disrupting the longstanding historic and systemic barriers to wealth building, jobs, and prosperity encountered by individuals, families, and whole communities of color. Now, more than ever, Groundwork practitioners agree that our community building efforts offer an intersectional opportunity to realize environmental, economic, social, and racial justice.
In spite of this emerging core value across the Groundwork network, we quickly saw that, like most things, there's no "one size fits all" with respect to how Groundwork Trusts and their communities understand or contend with gentrification and its effects. Instead, Trusts seem to fall along a spectrum depending on their local market conditions. Consider:
Some Groundwork practitioners, like Wendy Hawthorne of Groundwork Denver, described her Trust's participation in coalition-driven efforts to address the acute need for neighborhood stabilization among local homeowners and renters whose property values and rents are skyrocketing as new investment and speculation spread across Denver.
Others, like Phyllis Boyd of Groundwork Indianapolis, noted the presence of gentrification's telltale signs in some corners of her city, and observed that although gentrification is not yet at hand in the neighborhoods where Groundwork Indy works, there's growing need to anticipate and protect against what they know is sure to come.
Still other Groundwork practitioners, like Groundwork Cincinnati's Robin Corathers, framed the notion of gentrification as a "welcome challenge," given the weak market and lack of new investment in the neighborhoods where Groundwork Cincinnati operates. She shared a desire to learn more about intentional preventive strategies her Trust could implement to anticipate and mitigate the negative effects of gentrification before it arrives on the scene.
Whether Groundwork Trusts are reclaiming brownfields as quality parks, restoring river habitat, leading an area-wide planning process, sustaining a community garden, planting trees, building a coalition, or engaging youth in conservation education, stewardship, and job training, when we plan and enhance the built environment, we are also creating more fertile soil and planting the seeds of investment. Without preparation and forethought, our work can quickly generate market signals that conditions are ripe for speculation. However, if we are strategic and thoughtful in how we connect place-based investments to existing residents, young people, and partnerships, then widespread economic opportunity and overall prosperity can take root, particularly amongst people in places long passed over by funders, policymakers, and investors for a variety of reasons. As we do this work, we must pause, reflect, and set an intention so we can honestly answer the question: What steps are we taking right now, and into the future, to provide barrier-free access to an overall prosperity that builds the wealth of individuals and communities, and minimizes the displacement that can result from gentrification?
In the coming weeks and months ahead, future blog posts will highlight the community building work of Groundwork Trusts, as well as our practitioners' reflections on and answers to this and other questions related to prosperity, wealth-building, and creating bountiful access to opportunities for all.
[1] Intersectionality (or intersectional theory) is a term first coined in 1989 by American civil rights advocate and leading scholar of critical race theory, Kimberlé Williams Crenshaw. It is the study of overlapping or intersecting social identities and related systems of oppression, domination, or discrimination.
Monica Gregoire, Groundwork USA Program Assistant, provides staff support for Groundwork USA's capacity building and technical assistance programs focused on brownfields, equitable development, and environmental justice. Kate O'Brien is Groundwork USA's Director of Capacity Building.