What does it take to create a healthier, more equitable built environment? At Groundwork, we know that big, aspirational green space action projects are built one small victory at a time, requiring many years and many hands. The future Yonkers Greenway, envisioned as a pedestrian/bike corridor connecting neighborhoods and communities, is one such project. For over 10 years, Groundwork Hudson Valley has "carried the torch" for the Greenway project, which began as the dream of local community residents. Since 2008, Groundwork Hudson Valley has engaged multiple stakeholders—local government, community residents, elected officials, nonprofit organizations, corporate and philanthropic funders, students, and others—and secured a "patchwork quilt" of funds to drive this project from vision to reality. The timeline below illustrates a few of the many incremental steps and milestones that Groundwork Hudson Valley and its partners have celebrated along the way.  
2008-09
In 2008-09, a coalition of community residents and allied nonprofit organizations forms the Committee of Seven with the goal of improving quality of life in Yonkers' Lawrence Street neighborhood. Active in neighborhood cleanups since 2000, Groundwork Hudson Valley (then Groundwork Yonkers) joins the Committee of Seven to explore ways to promote pedestrian activity in the neighborhood, reactivate empty storefronts, and combat illegal dumping.
2009
One day in 2009, Renee Milligan and Lucy Moreno, longtime community advocates from Yonkers' Lawrence Street neighborhood, were walking along Saratoga Avenue, near a spot that overlooked an abandoned park. "All we could see was green. That caught my attention," recounts Renee. She thought the space might be used as a place for children to play and families to barbeque, so she approached then-State Assemblyman (now Yonkers Mayor) Mike Spano about the importance of having a park in the neighborhood. "He was interested in it. I suggested that we have a cleanup. He agreed to it—and he brought other commissioners there. He said, 'I'll make a commitment to try to help.'"
2011
Through Committee of Seven meetings and other conversations, Groundwork Hudson Valley learns that community members want to rebuild the Smith, O'Hara, Levine Park, which had been abandoned 20 years earlier. Residents see the renewal of this long-defunct park as the top priority for the neighborhood, critical to affirming a sense of place for community members, ending illegal dumping, restoring a community hub, and attracting visitors to the area.
2012
Researching the neighborhood, Groundwork Hudson Valley board chair Rob Baron discovers that the series of vacant lots winding through several Yonkers neighborhoods lie along a spur of the former Putnam Railroad, and that the abandoned park was the former site of the Lowerre train station. Running from Getty Square in downtown Yonkers all the way to Van Cortlandt Park in the Bronx, the properties along the abandoned train route offered a linear path to build upon from downtown Yonkers all the way to the Bronx.
2013
2013 marks a major turning point as Groundwork Hudson Valley secures a cluster of federal, state, and local grants for project planning, including:
a US EPA Brownfields Area-Wide Planning grant to assess the feasibility of cleaning up and redeveloping contaminated properties along the former Putnam Rail corridor;
a New York State Office of Parks, Recreation and Historic Preservation feasibility study grant to assess the corridor's potential as a greenway, multi-modal transit corridor and neighborhood economic development driver; and
a Westchester Community Foundation grant to ensure community member participation in the project's design and development process.
Nov. '13
At the request of Groundwork Hudson Valley and on behalf of the Committee of Seven, an EPA technical assistance provider team based at the New Jersey Institute of Technology leads a walking tour of the High Line and other green space sites in New York City to explore what might be possible for the future Yonkers Greenway.
Jul. 14
Groundwork Hudson Valley Green Team youth organize a pop-up community engagement event along Lawrence Street that engages over 2,000 community members in one afternoon. Shutting down a major street, they mark future bus lines, bike lanes, and crosswalks on the street with tape and construct a temporary stage to show how the area could be used for outdoor events. Temporary seating, food trucks, and a playground appear, providing a tangible opportunity for local people to experience in real time how the focus area could be permanently transformed. The community envisions the Greenway as a catalyst for neighborhood revitalization, job creation, and improved public health.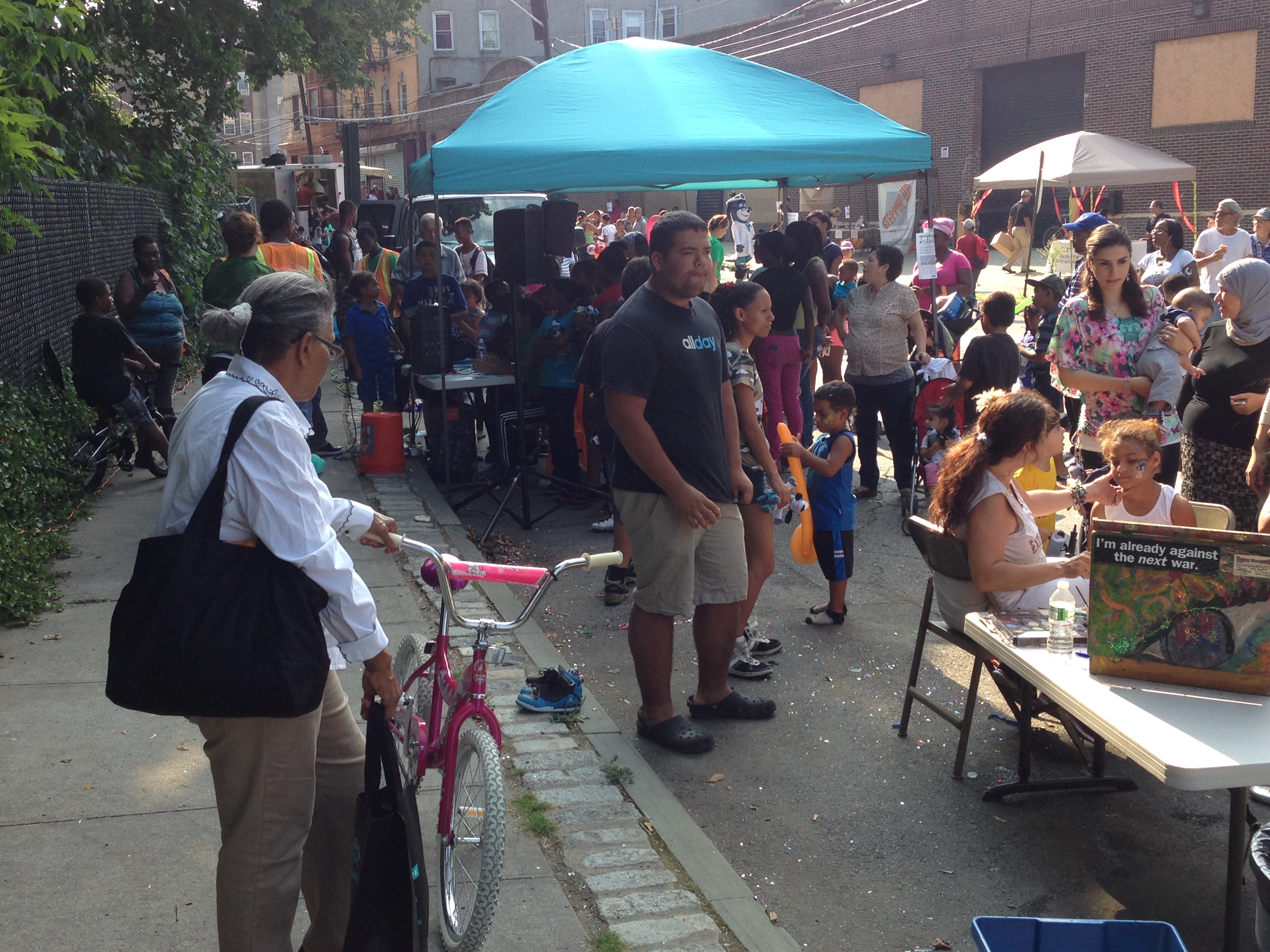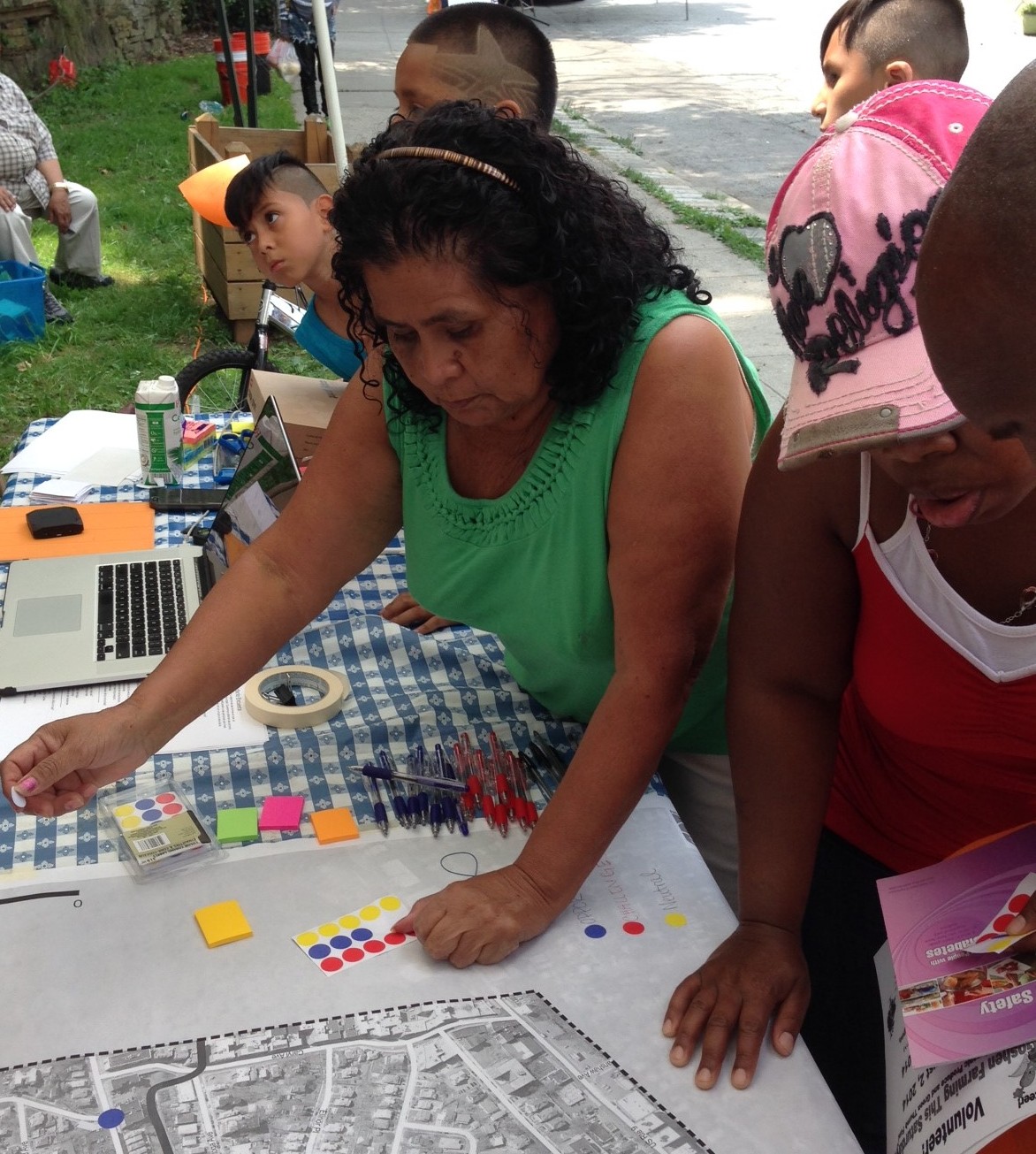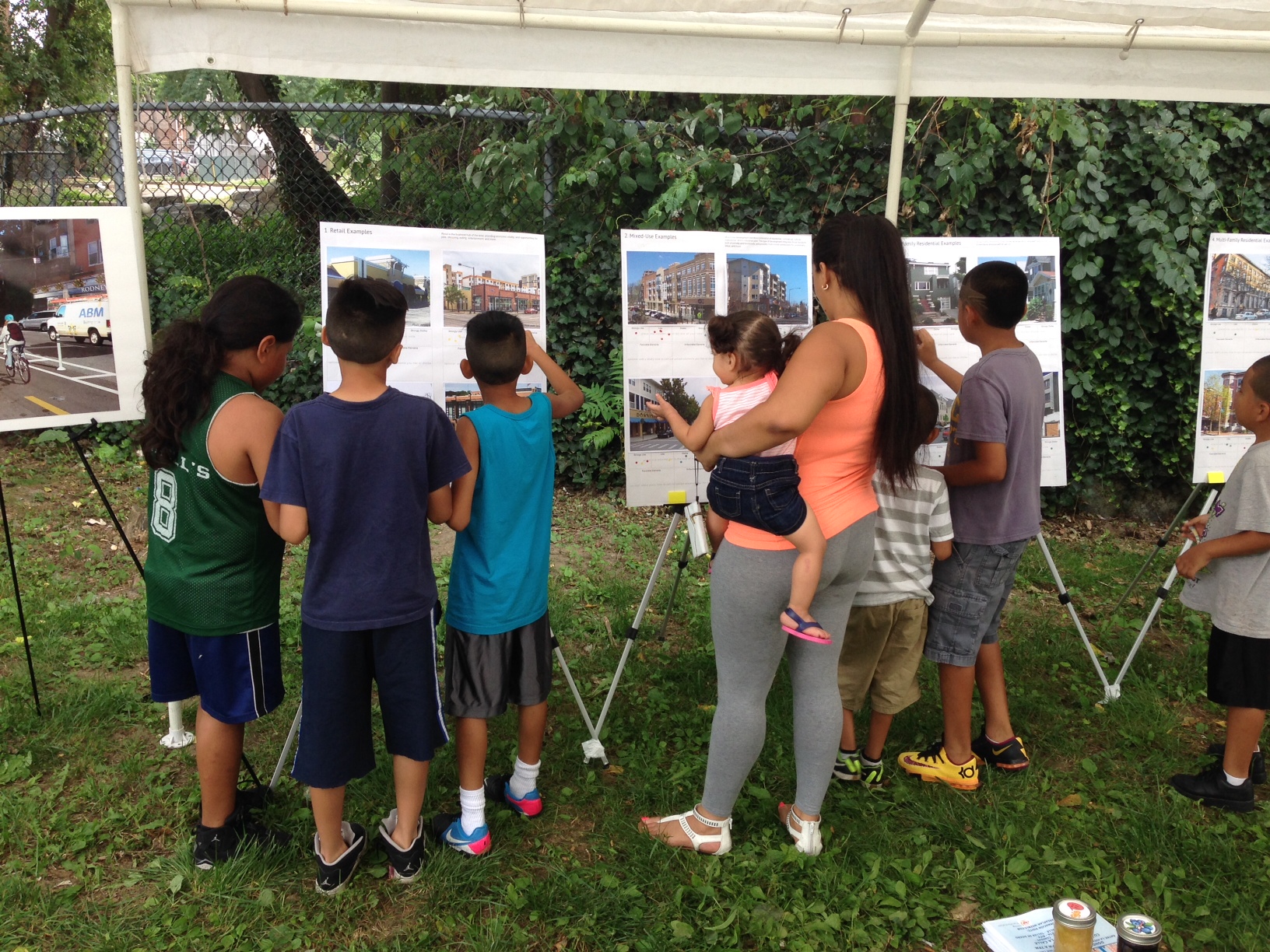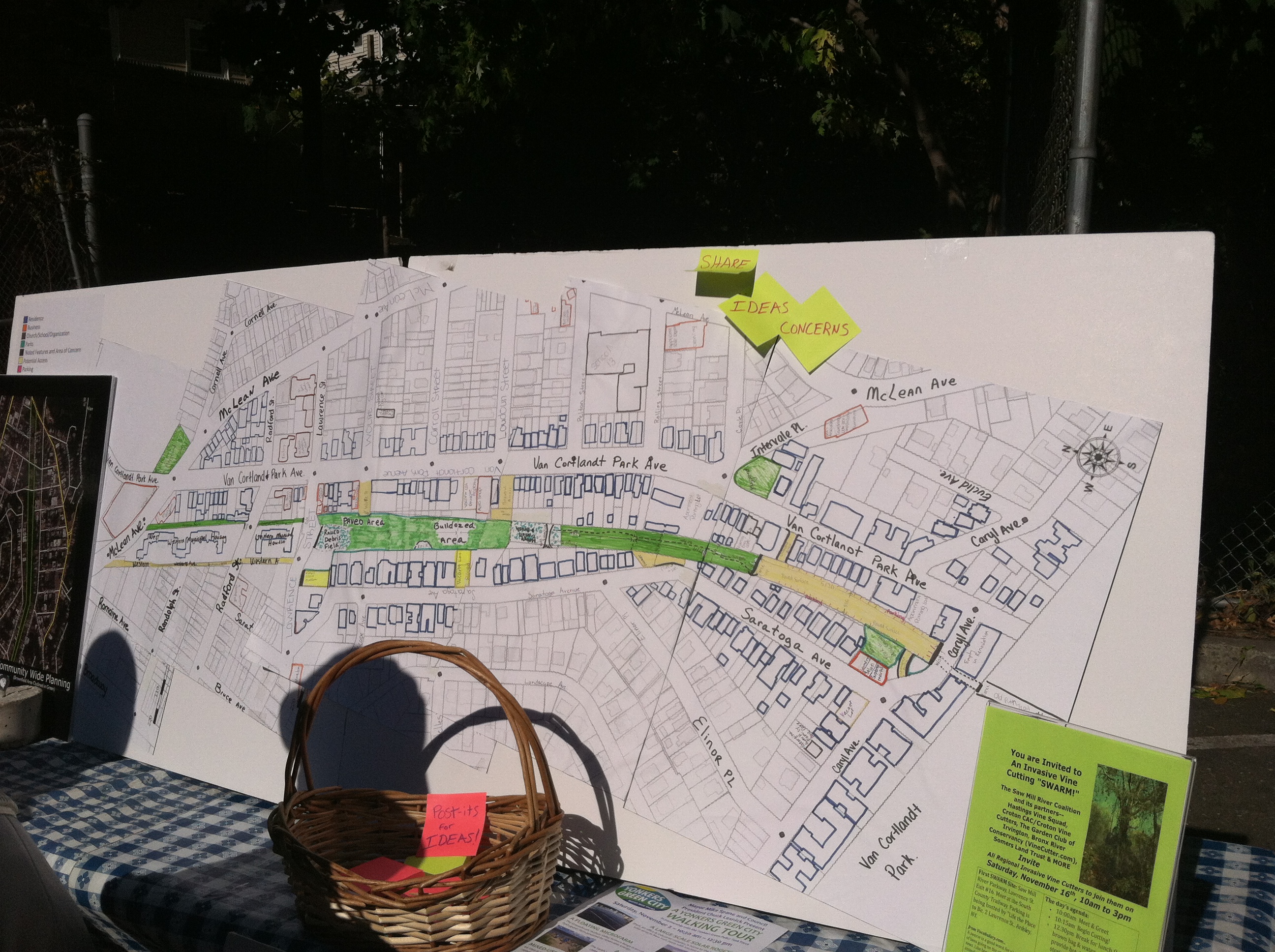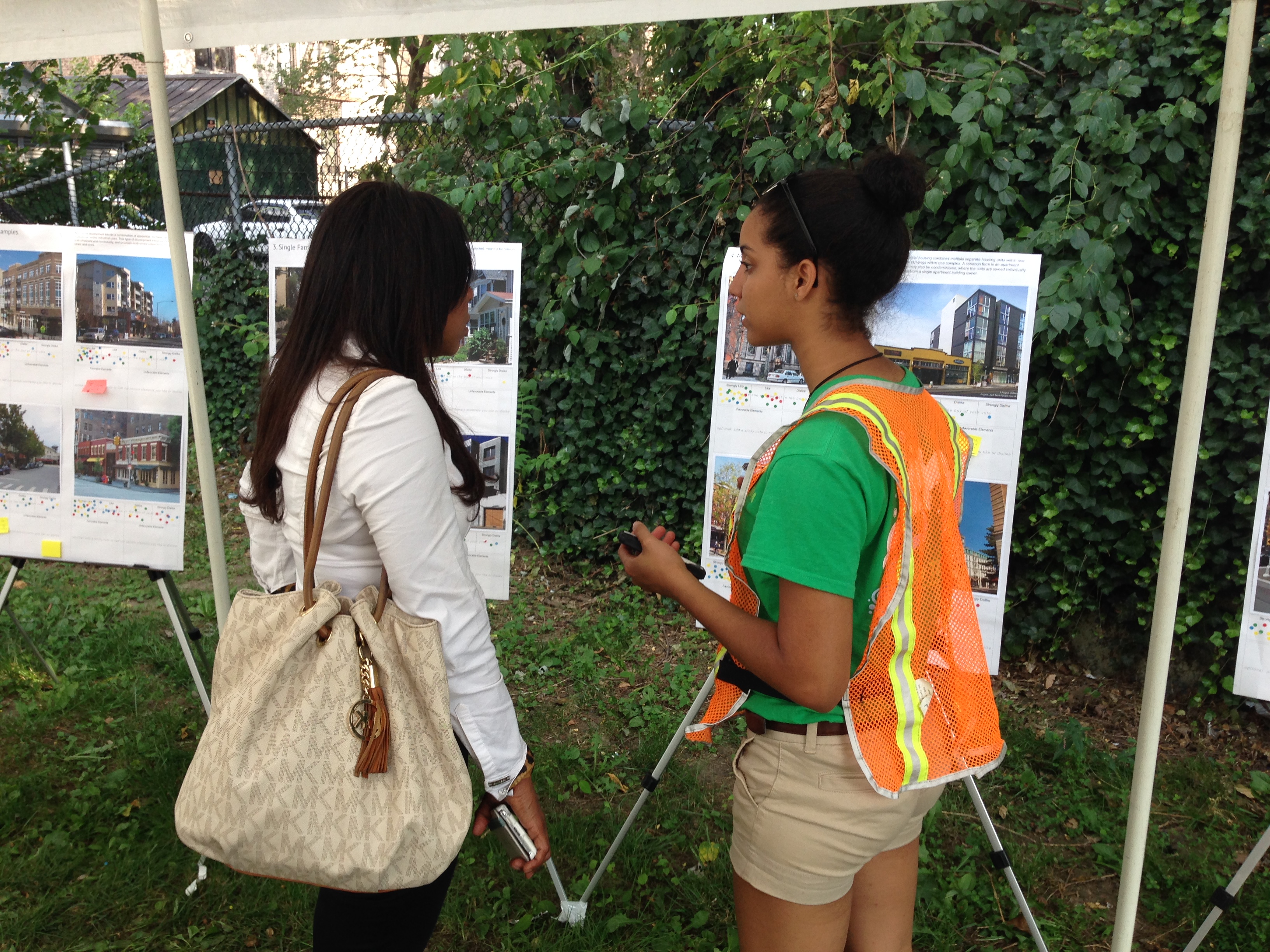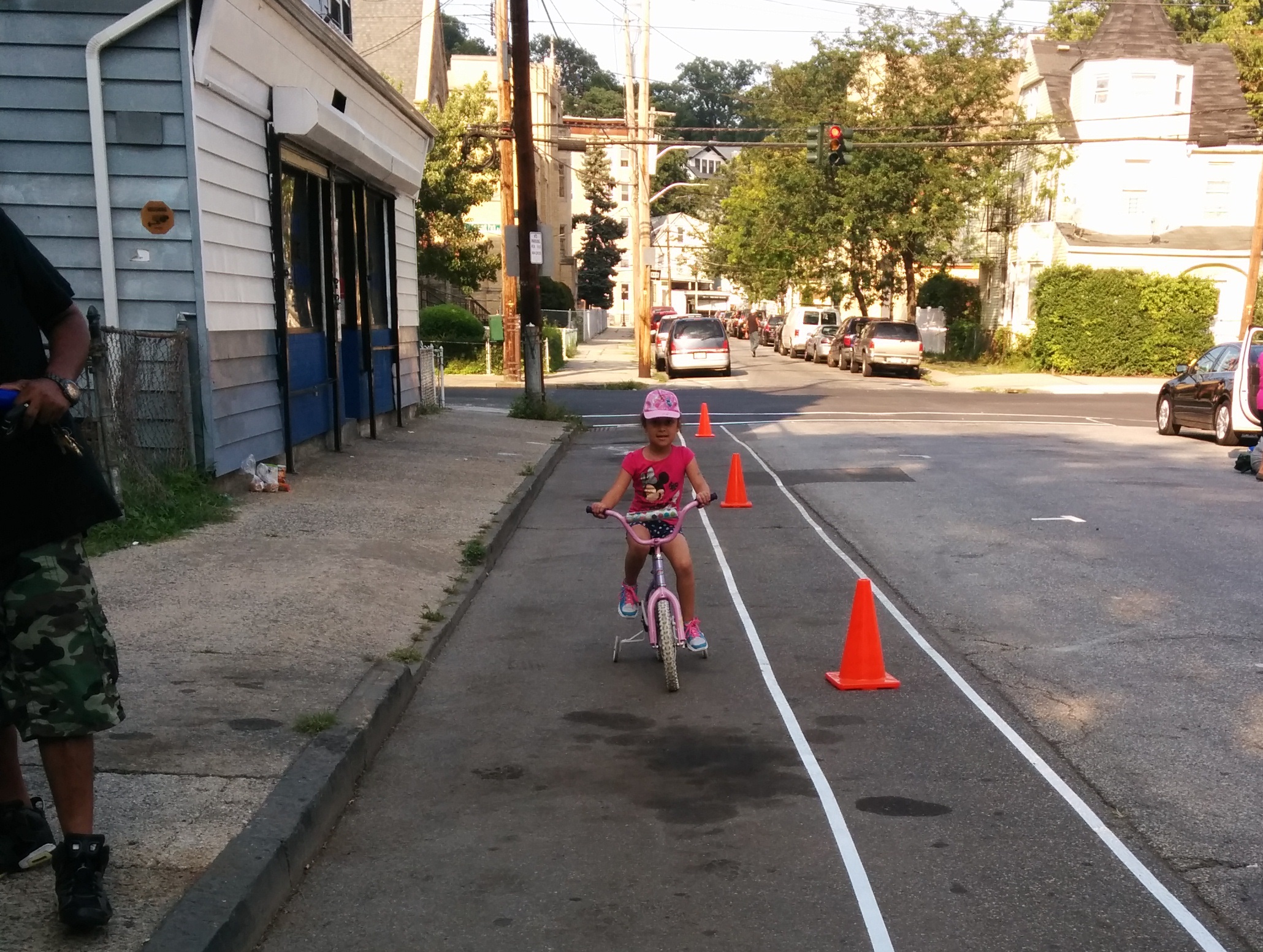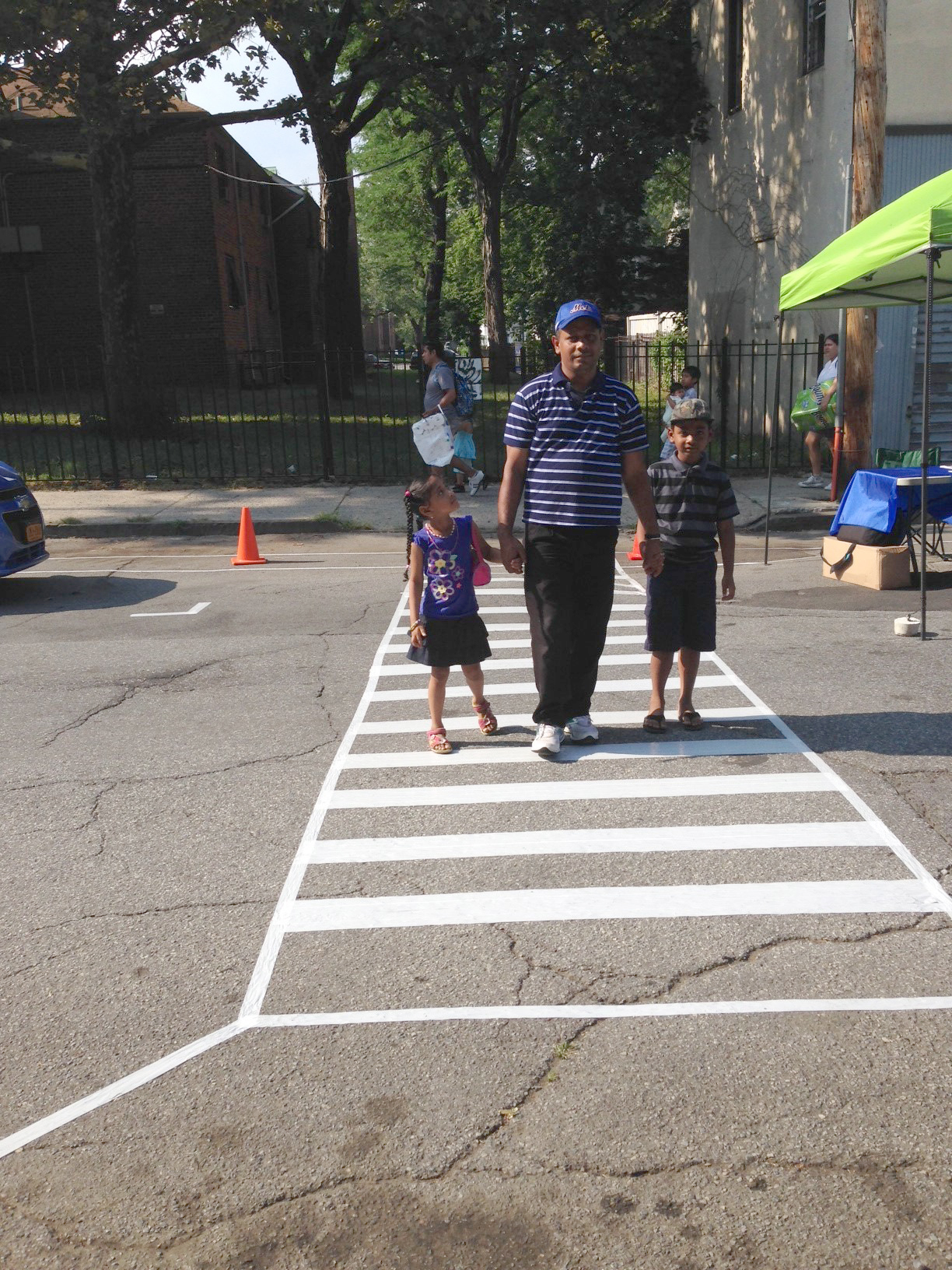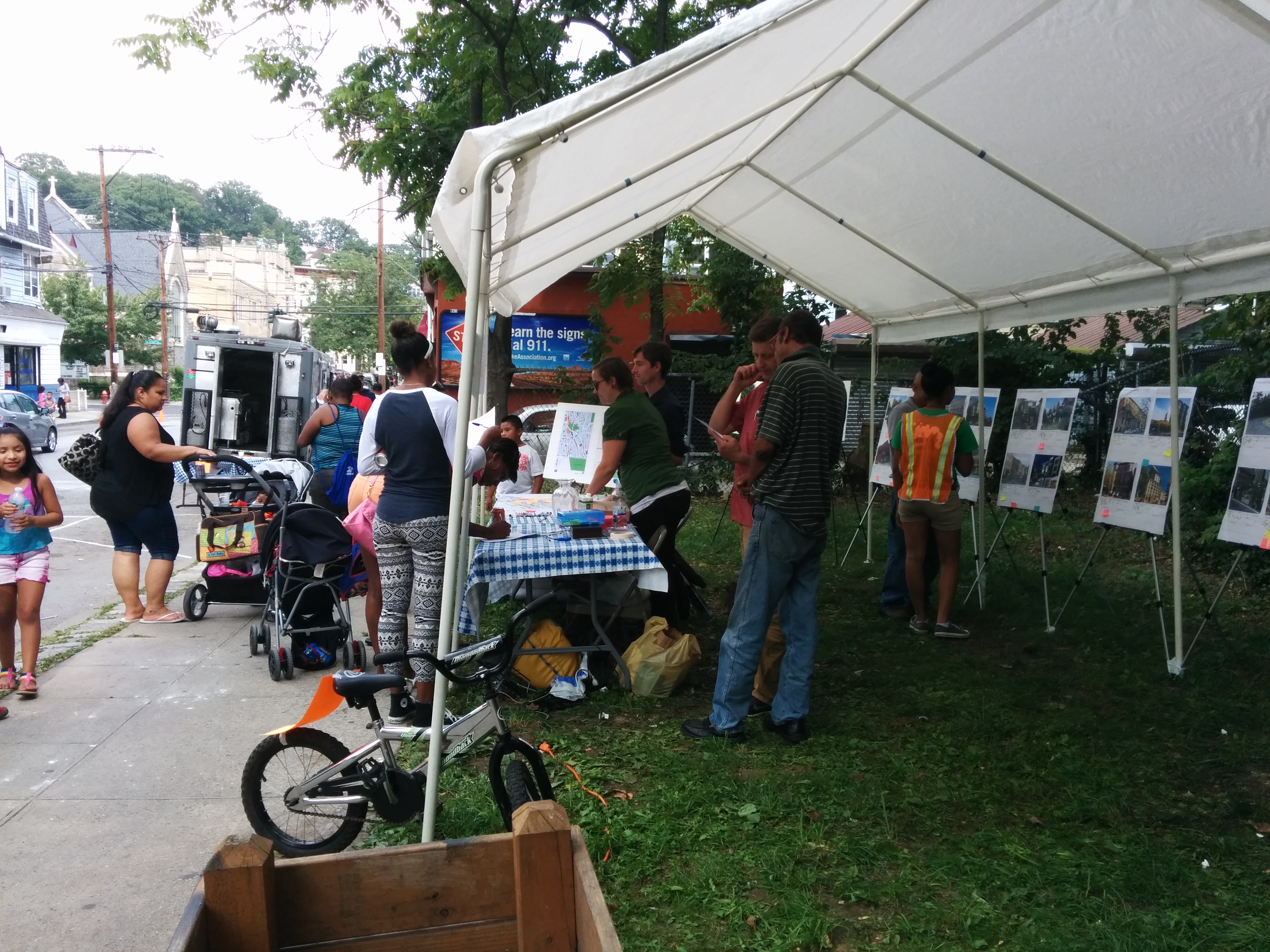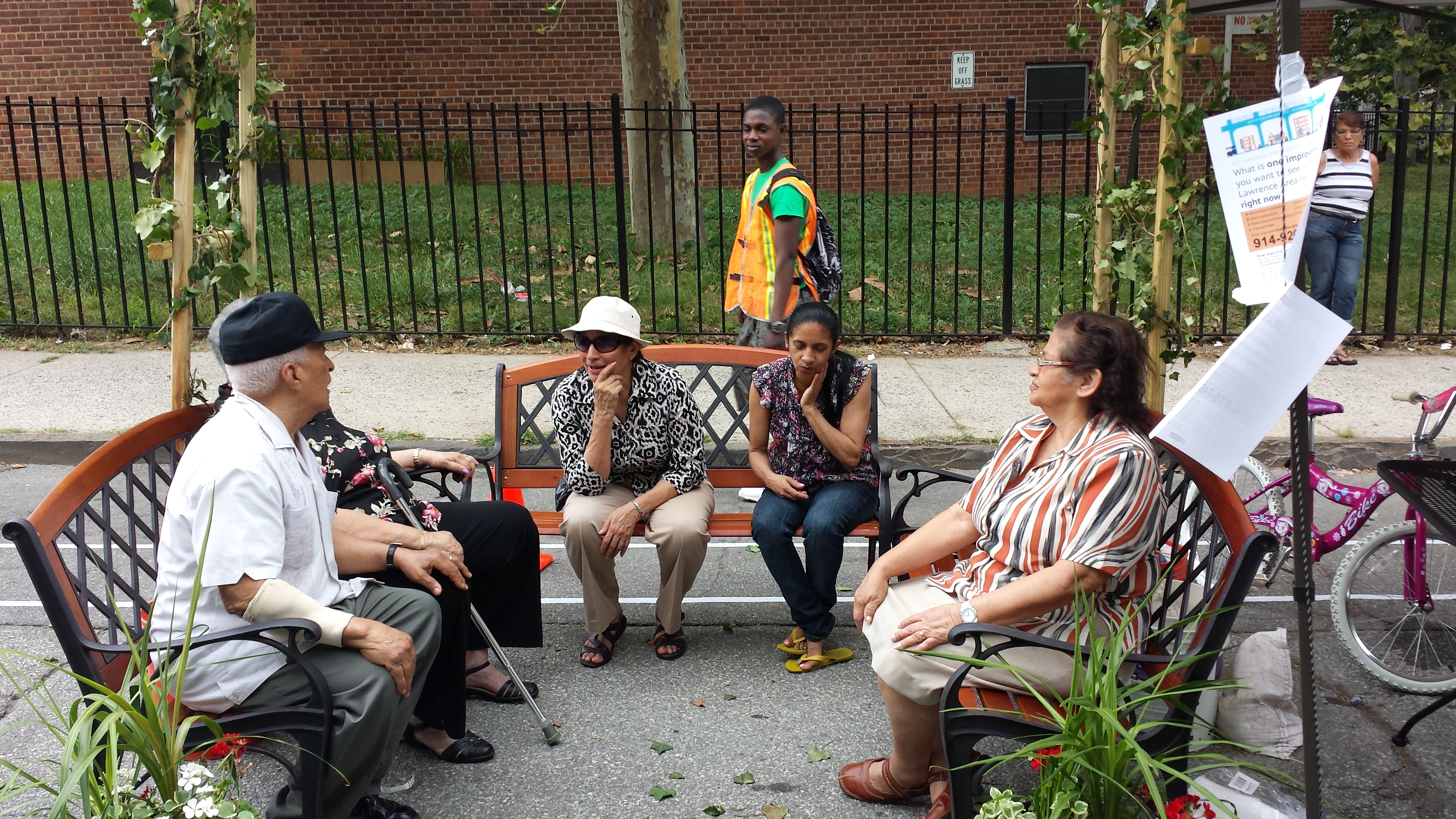 2014-15
Groundwork Hudson Valley holds a number of community design meetings to gather input from Lawrence Street neighborhood residents about their wishes for the park and surrounding neighborhood. Senior citizens express interest in having a community garden in the park, while local schoolchildren vote for a new playground and select the play equipment they most prefer.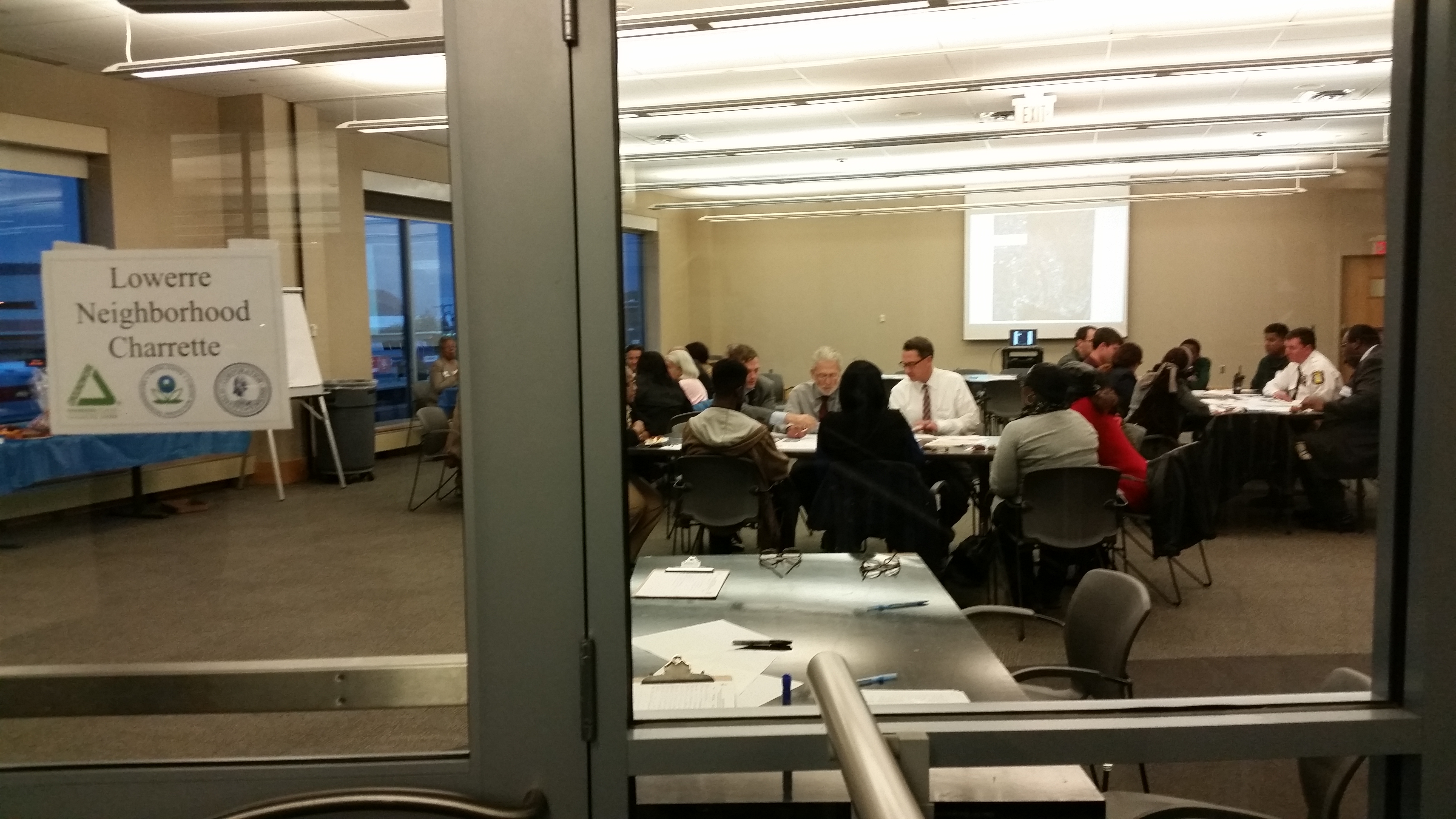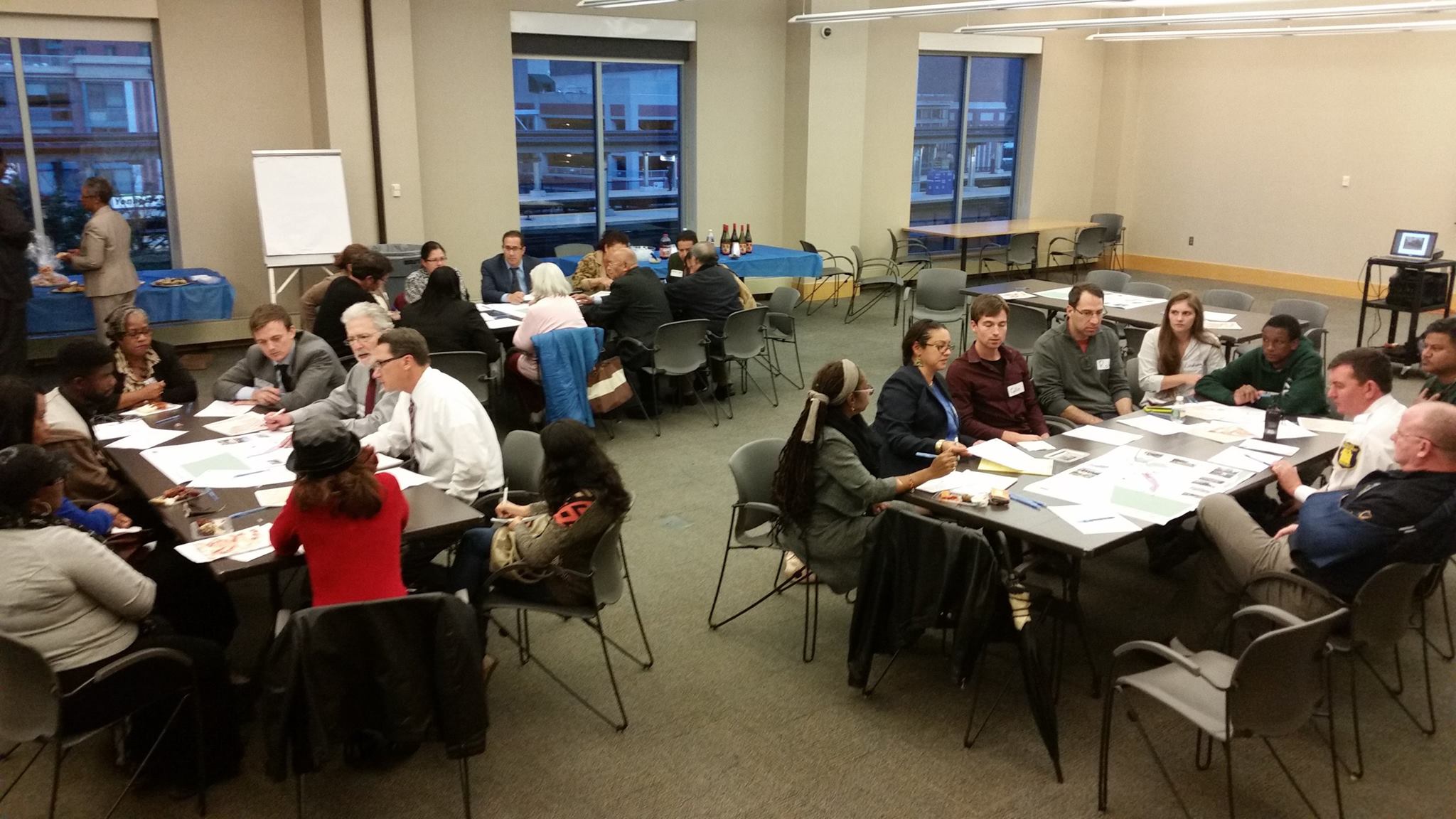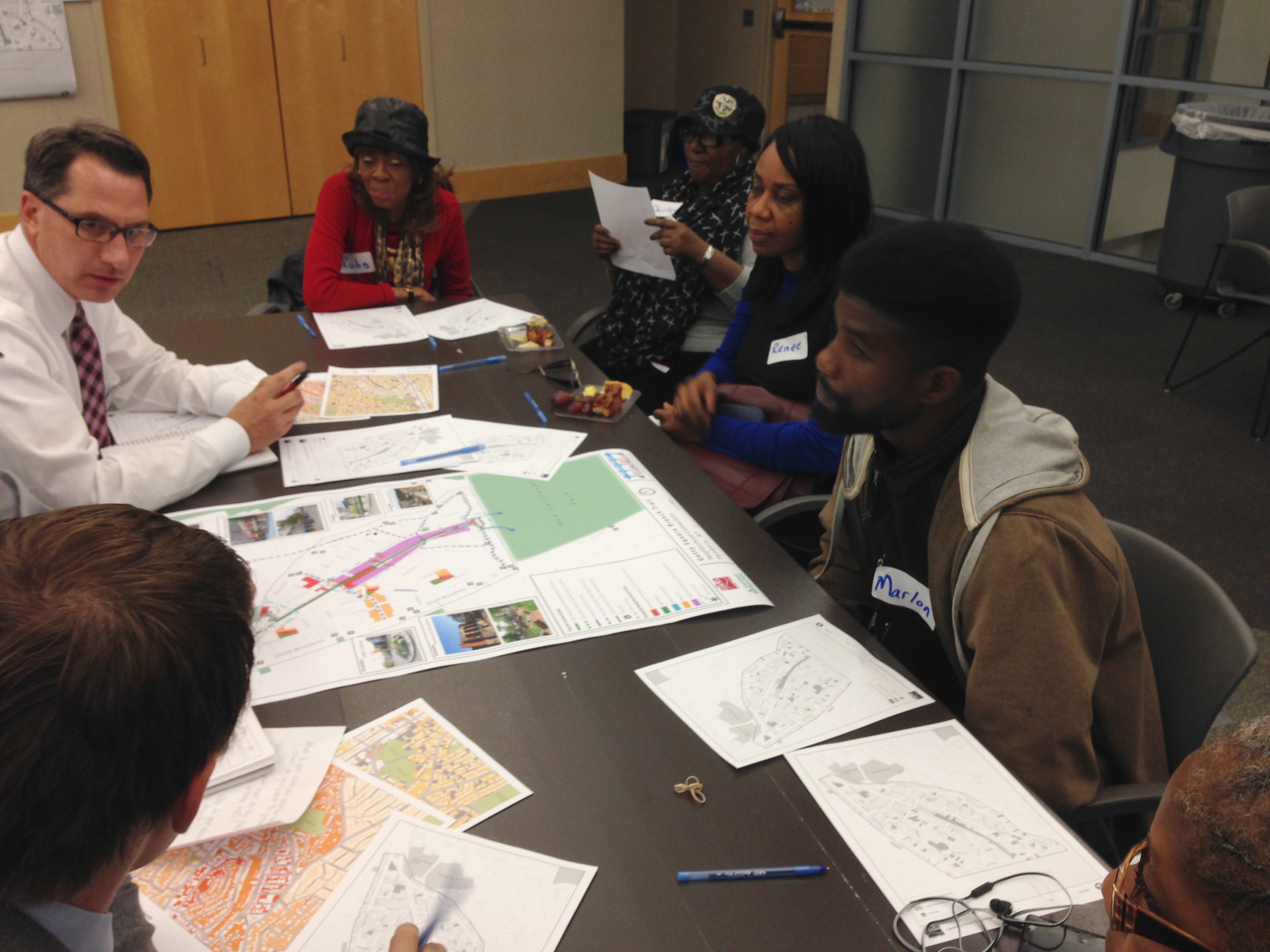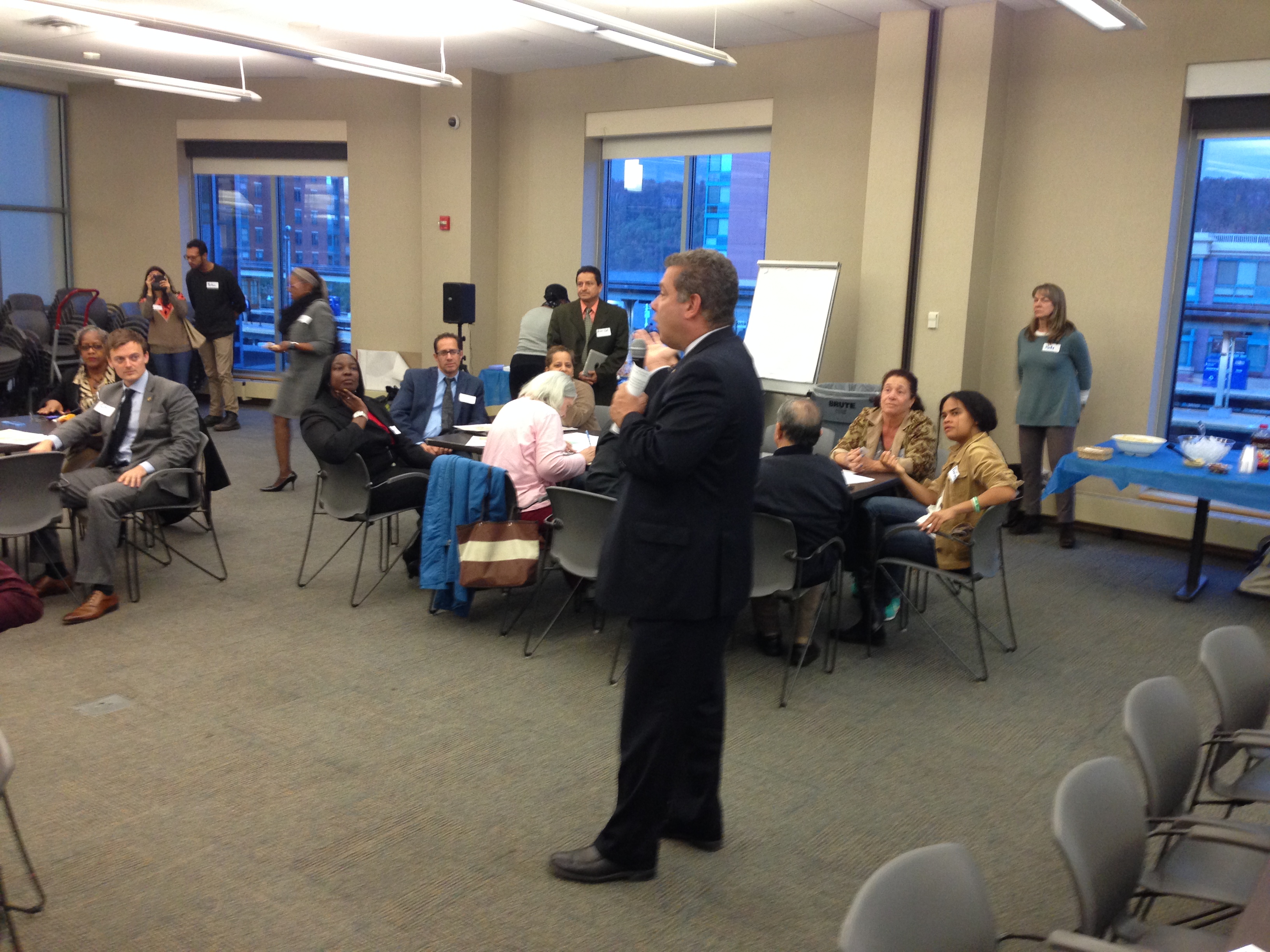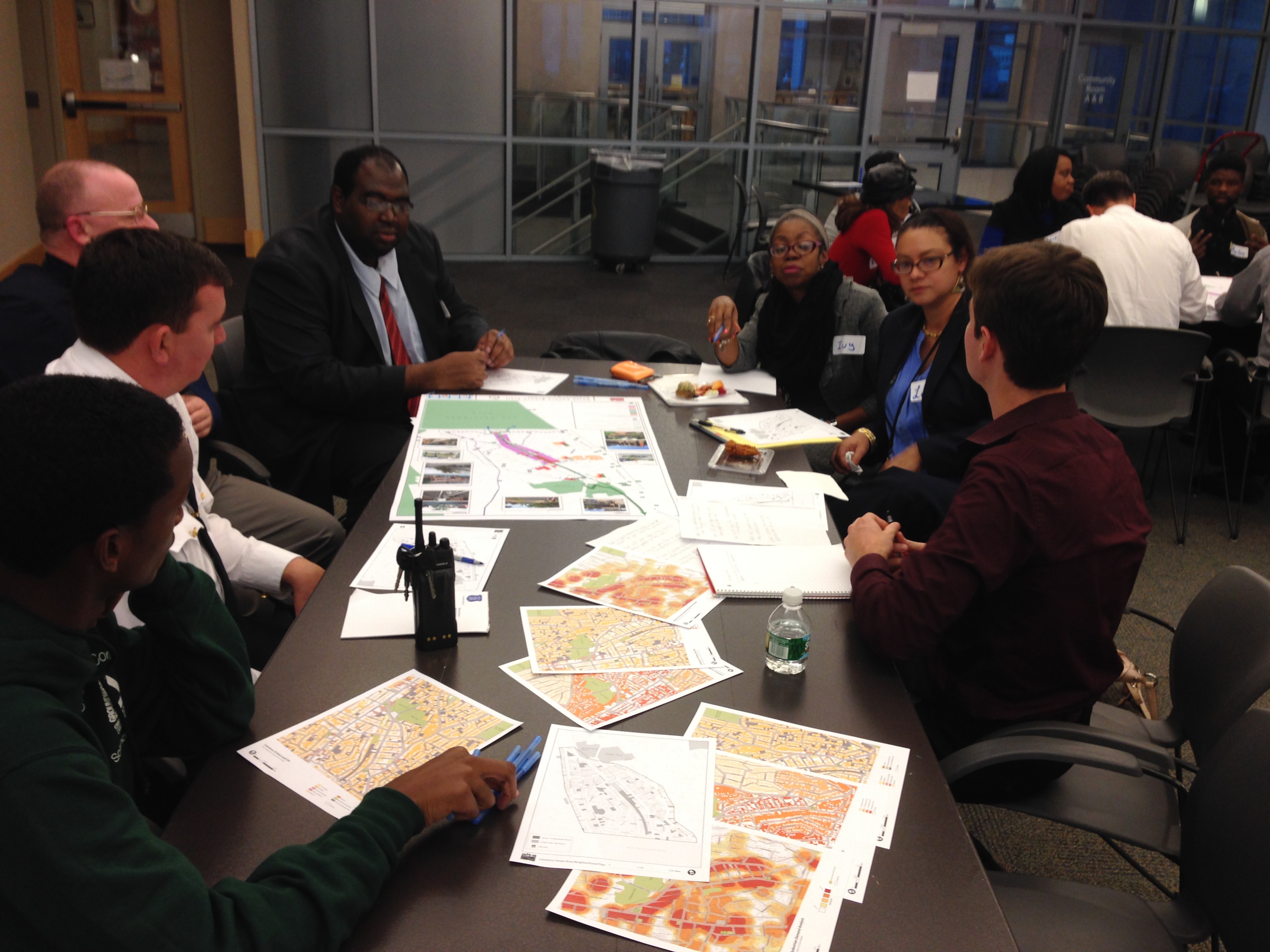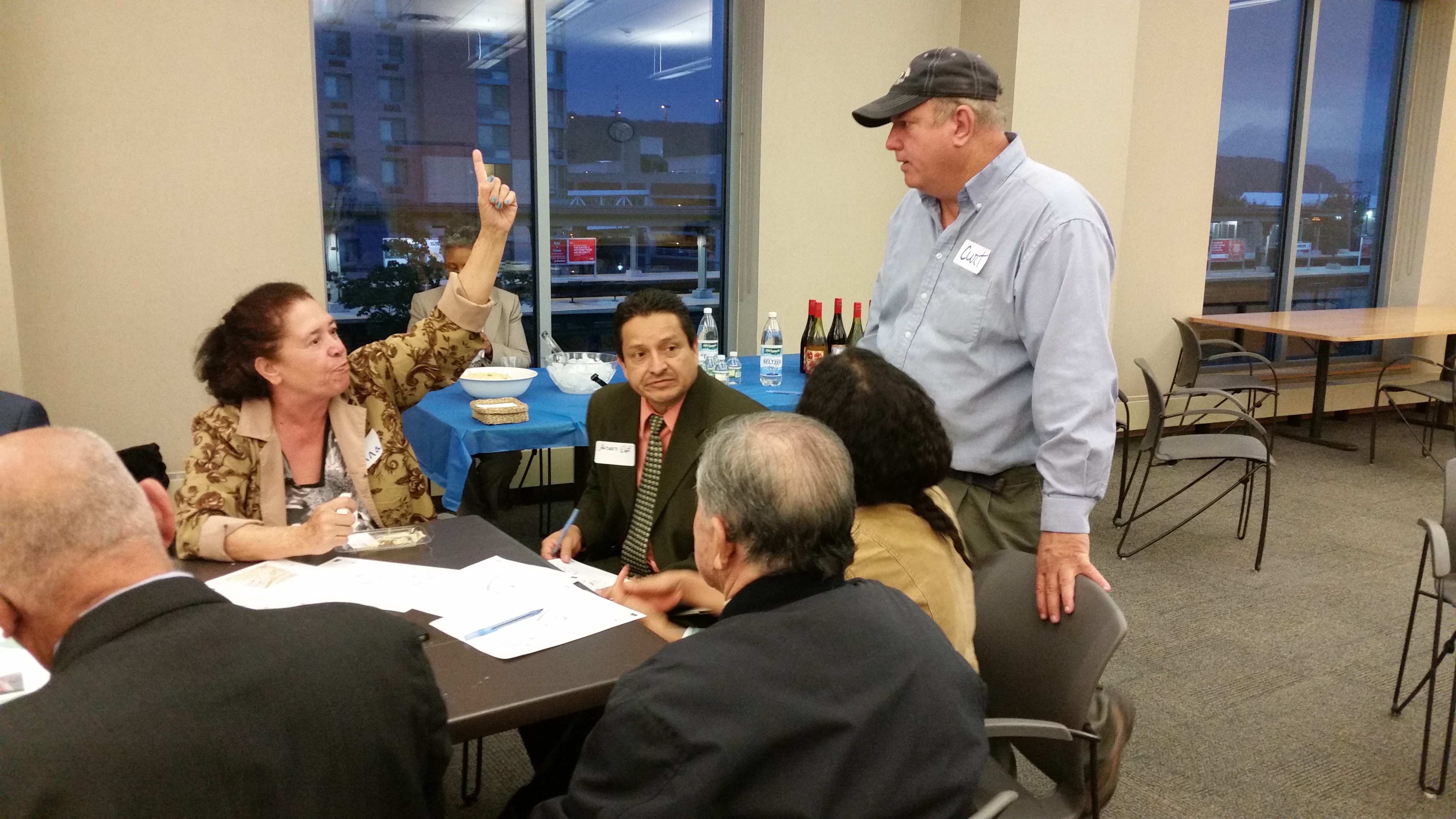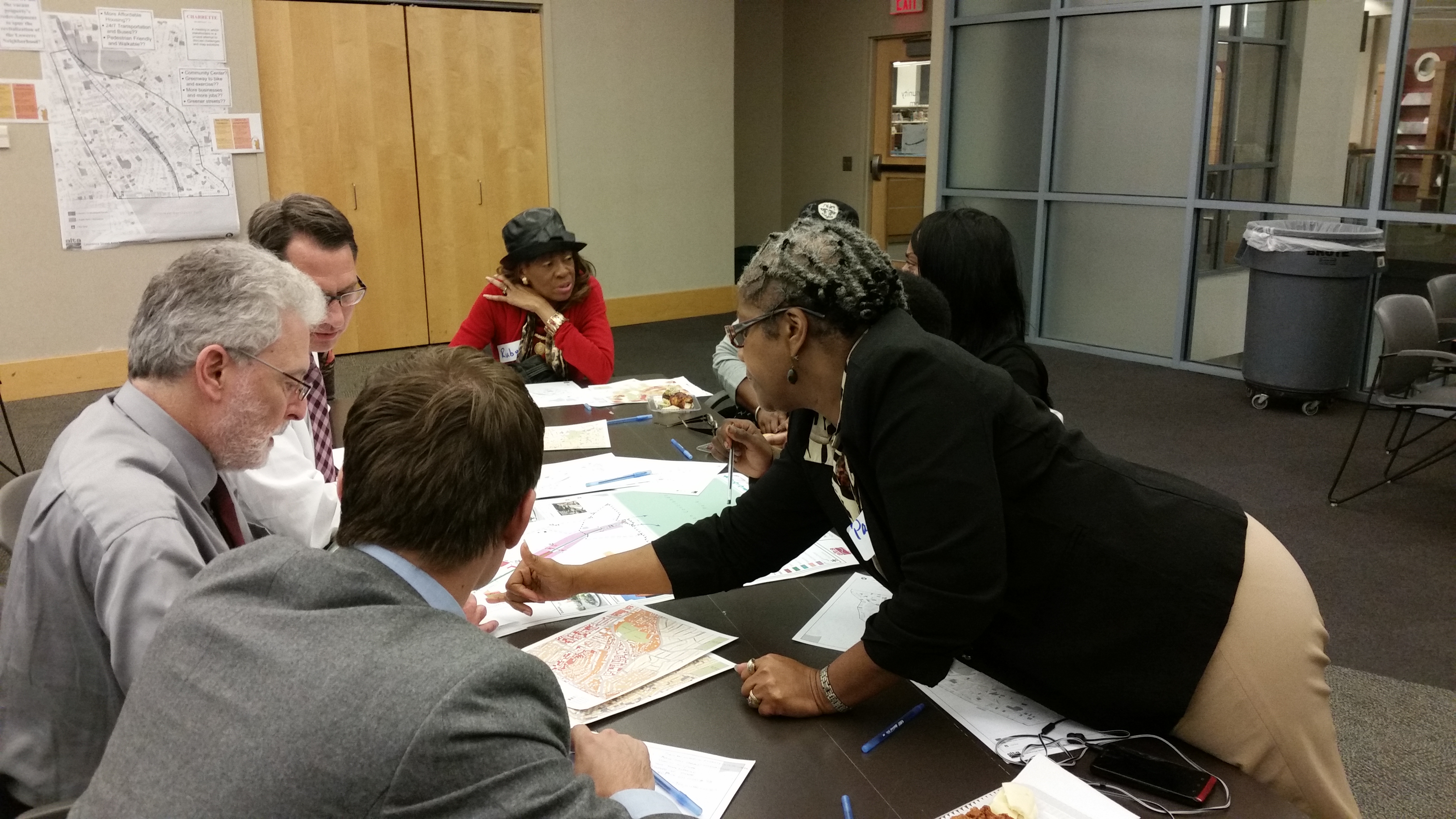 2015-16
The Yonkers Greenway project is becoming "real" in the eyes of many stakeholders. 2015 and 2016 mark a second major turning point for the project as shared resources and cross-sector partnerships come together to support detailed design of the Greenway. During this period, Groundwork Hudson Valley secures a flurry of public and philanthropic grants totaling over $710,000 from the City of Yonkers, Bank of America, Ronald McDonald House Charities, Impact100 Westchester, and the New York State Office of Parks, Recreation, and Historic Preservation. The vision is well on its way to becoming a reality.
2016
Planners with Alta Planning + Design complete detailed design and construction documents for the first phase of the Yonkers Greenway project, which incorporates a focus on Crime Prevention through Environmental Design, a multi-disciplinary approach to deterring criminal behavior through environmental design..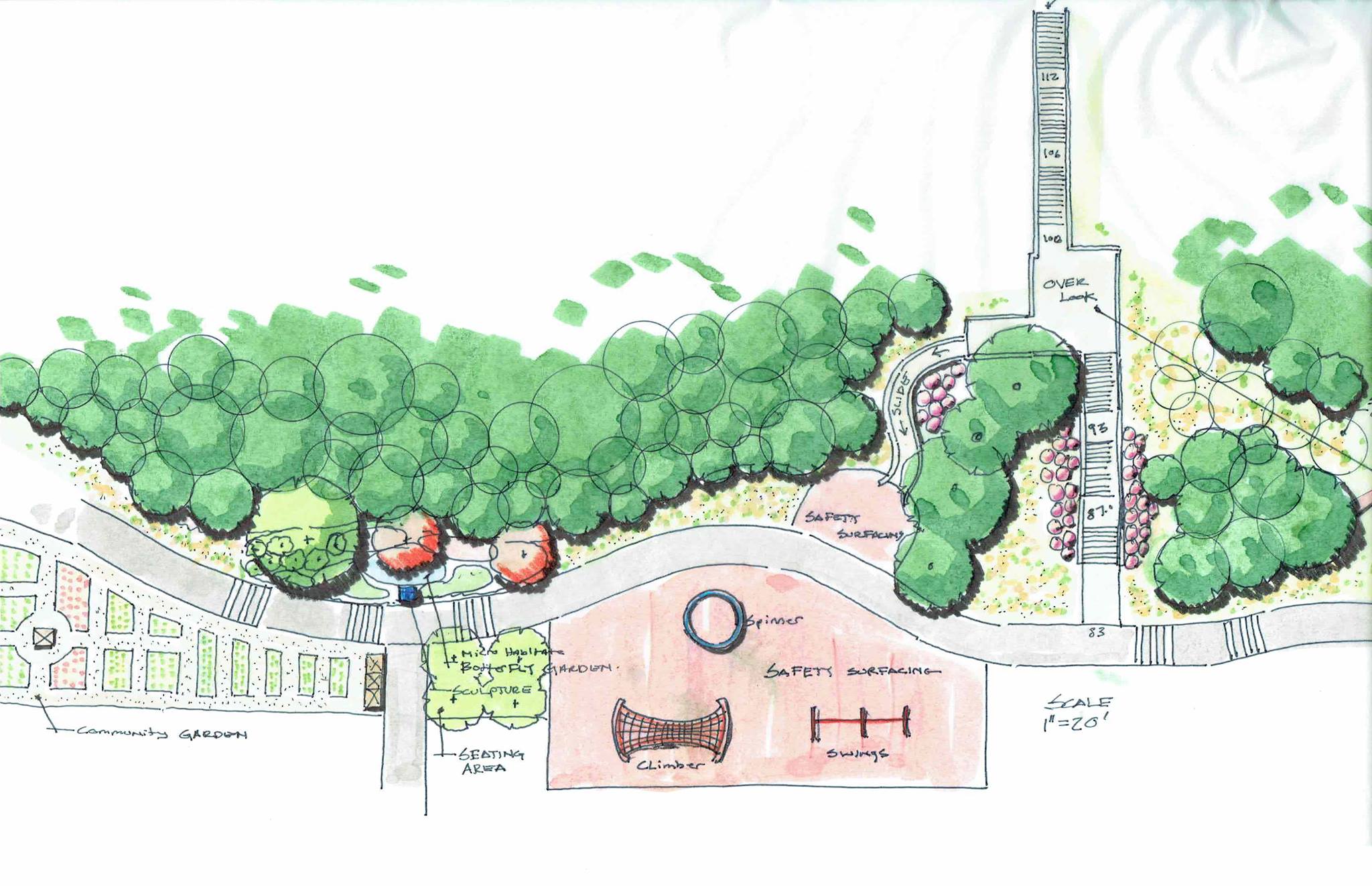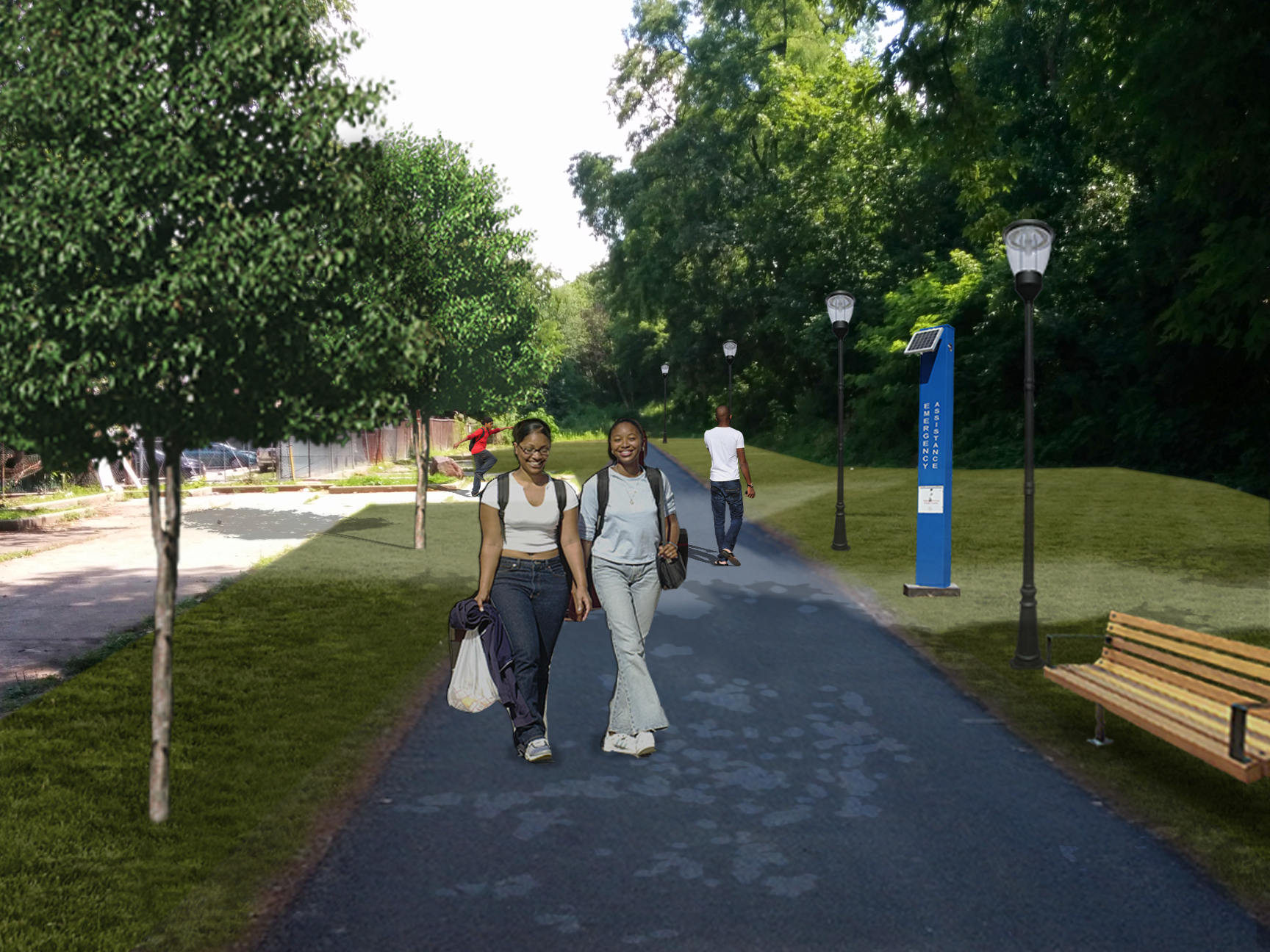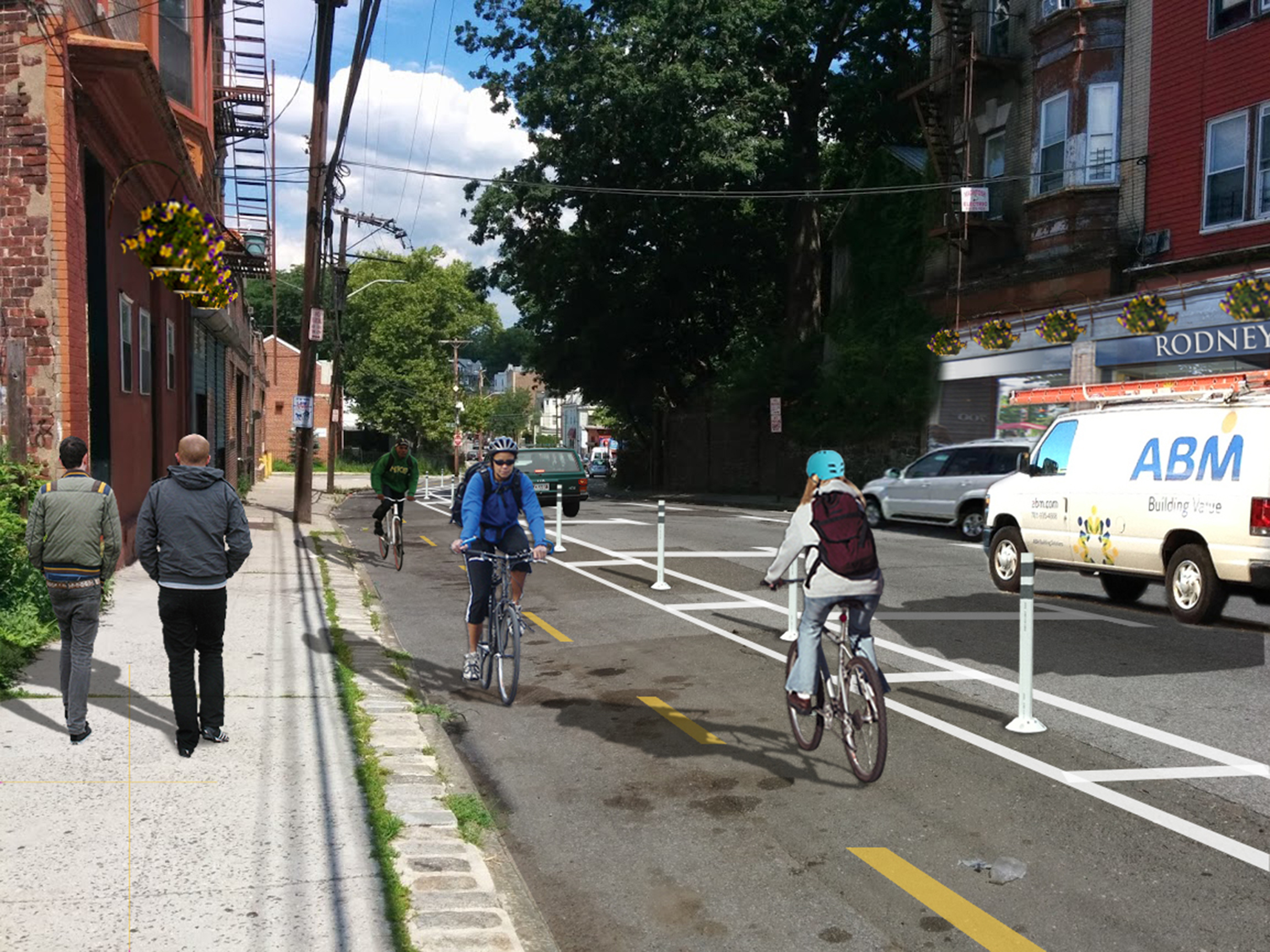 2016-17
A major public-private partnership is born in June 2016 when the City of Yonkers approves $500,000 in capital funds in its annual budget to support the development of the Yonkers Greenway. Two years later, in June 2018, the City approves another $500,000, further committing its fiscal resources to realize the project.
Feb. '17
Members of the Groundwork Hudson Valley team attend a Yonkers City Council meeting, testifying before Councilmembers on behalf of the Yonkers Greenway project. The City Council approves the project and the use of a New York State Parks grant to fund construction.
Apr. '17
In April 2017, the City of Yonkers collaborates with Groundwork Hudson Valley on a winning $3.3-million grant proposal from the New York State Department of Transportation. The grant supports design and construction of the entire Yonkers portion of the Greenway. This is a game-changer, as the funding supports a unified plan for the entire Greenway through Yonkers, not just phases.
Sep. '17
The City of Yonkers commits $100,000 for construction of a playground in the Yonkers Greenway Park. At the same time, Bank of America awards Groundwork Hudson Valley a second grant of $50,000 to support a major community survey to assess what features and amenities local stakeholders would like to see developed along the Greenway.
Nov. '17
The City of Yonkers awards Groundwork Hudson Valley a $70,000 Community Development Block Grant in support of sculptures for the Yonkers Greenway park. The award is given to honor and reflect the rich culture of the communities in the Yonkers Greenway neighborhood.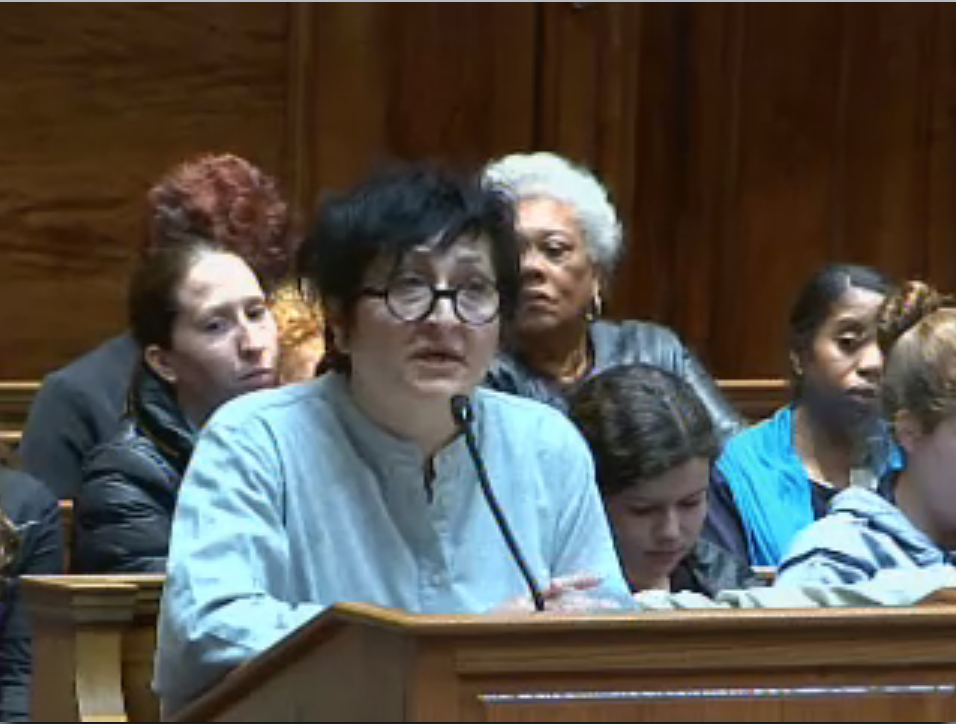 "Yonkers was built by waves of immigration coming into the city, taking that Putnam rail line and working in Yonkers, building the industry. And part of what we want to do with the Rail Trail is tell that story… We have the Irish, the Slavic community, the Polish community, the Arab community. We have a growing Hispanic community. We have the African-American community. We have now the West African community, which is one of the fastest growing immigrant communities in the City of Yonkers. And what that story does is it anchors us as a people. It reminds us of the great accomplishments that we've made in this city and the way we've done it together."
—Haifa Bint-Kadi, Groundwork Hudson Valley 
Aug. '18
Following news that construction bids came in at a price higher than anticipated, the City of Yonkers commits an additional $100K for the Yonkers Greenway Park, slated for construction in the spring of 2019. The New York State Department of Agriculture and Markets awards Groundwork Hudson Valley a $23,000 grant in support of a community garden in the park.
Oct. '18
Groundwork Hudson Valley secures multiple grants to support community engagement work around connecting the Yonkers Greenway to New York City, including:
A Bank of America grant ($50K) to support continued community engagement; and
A City of Yonkers Community Development Block Grant ($45K) and a New York State Department of Environmental Conservation Environmental Justice grant ($100K) to ensure water infrastructure hook-ups to sustain community gardening and landscaping.
10/24/18
On Oct. 24, community advocates, nonprofit leaders, local politicians, and corporate and philanthropic funders break ground on the Yonkers Greenway Park, which includes  a state-of-the-art playground, community garden, and art installations.
Speakers include Renee Milligan, community advocate and Groundwork Hudson Valley board member; Lucy Moreno, community advocate and Greyston's Community Gardens coordinator; Pastor Lourdes Roman-Rivera from Living Transformations; Yonkers Mayor Mike Spano; Yonkers Council Majority Leader Michael Sabatino; Groundwork Hudson Valley Executive Director Brigitte Griswold; New York President of Bank of America Jeff Barker; Impact100 Westchester Executive Director Susan Bloom; and Westchester Community Foundation Program Officer Tara Seeley.
Dec. '18
Jan. '19
In January 2019, the City of Yonkers selects Barton & Loguidice to develop design and construction documents for the Yonkers side of the Greenway project. Not long after, Groundwork Hudson Valley delivers the results of its community survey of local residents' needs and desires for the final Greenway design. Meanwhile, New York State awards another grant, this time to support planning for the New York City side of the Greenway.
2020
"For me, the most inspiring part about this project is its ability to bring people together from all different backgrounds toward a shared, ambitious goal to make our community a more vibrant place to live, work, and play. Together with community, city, and business leaders, we have transformed what was a visionary idea into a truly transformative reality that will have lasting impacts for decades to come. I credit that fact to the patience, determination, and shared ownership of all of the stakeholders over the past ten years. Together, we have truly epitomized the old proverb, 'It takes a village.'"
—Brigitte Griswold, Groundwork Hudson Valley Executive Director
Special thanks to Ellen Theg, Yonkers Greenway Project Manager for Groundwork Hudson Valley, for her work documenting this project timeline and helping to bring the Yonkers Greenway to fruition.