For Jai Phillips, change has always been a natural part of life. "Growth is a must," says the 24-year-old as he reflects on who he is and how his experiences as a teen and a young adult have shaped him. "I am someone who is always learning, always growing." Indeed, Jai's search for new opportunities to grow, change, and inspire those around him was sparked in his teens when a mentor urged him to join Groundwork New Orleans' Green Team, an environmental youth development and job training program for 14- to 18-year-olds.
Jai can't recall a time in his life when he didn't have "many pairs of eyes" on him, "watching my every move." The eldest of 10 children, Jai relates the difficulty of growing up in New Orleans and the poverty that eventually tore his family apart and resulted in a period of homelessness. Jai and his siblings were sent off to various relatives, and Jai ended up being raised by his grandparents.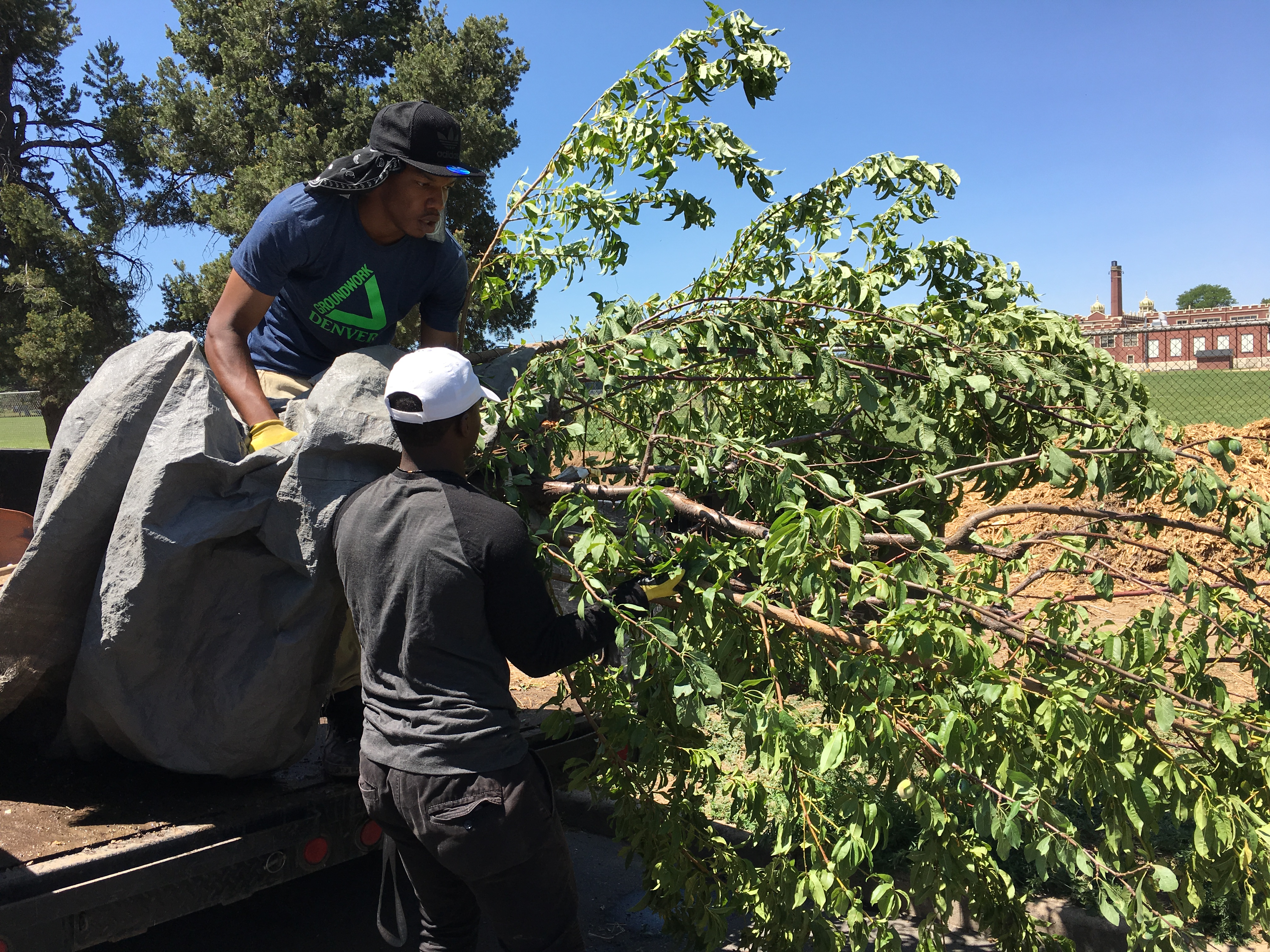 One especially muggy day in August 2005, Jai's grandmother announced that "it's time to go." Hurricanes are commonplace in the Delta region, but even at a young age, Jai knew there was something different about the coming storm. His grandmother had never left before. "The devastation brought about by Hurricane Katrina forced our neighborhood, our community—our city—to claim ownership of rebuilding in all kinds of ways," Jai says. "My experience as a teenage Green Team member building and maintaining rain catchers [rain gardens] and cutting down the tall grass on many vacant, overgrown lots in the Lower Ninth Ward—the neighborhood where I was raised—was a part of that claiming ownership of our community."
Eventually Jai's family returned to New Orleans to maintain their deep roots in the city. They resettled in the Lower Ninth Ward, though it had been heavily impacted by the storm surge and subsequent floodwaters. The only school that remained in the area was the Dr. Martin Luther King Charter School of Science and Technology, which "hadn't yet had a graduating class," he recalls. Because other schools were destroyed, all returning families sent their children to the same school, and Jai remembers sharing classroom space with 4th graders despite being a high school freshman. While he found the circumstances challenging, Jai relished seeing the younger kids around him, as it "gave me the opportunity to mentor children younger than myself," a talent he would utilize later on as a crew leader with Groundwork.
It was during his time at MLK that Jai first learned about Groundwork, where he first engaged in "learning about the environment, about conservation." "I didn't grow up knowing or talking about any of those things," he recalls. Jai's coach, who was also his biology teacher, knew of Groundwork New Orleans' restoration work and pressed Jai to apply. That first summer as a Green Team member, in addition to his work on the ground in his community, Jai attended Groundwork USA's Annual Youth Summit in Denver, Colorado. Coming from an economically disadvantaged family, Jai had never traveled so far before, especially to a place with big mountains and plentiful opportunities for hiking. He was so impressed by the youth he met from across the US that over the course of a few days, he developed relationships that he maintains to this day.
His return to New Orleans, however, was less rewarding. The economic livelihood of many area residents was interrupted by Katrina, and never more so than in the Lower Ninth Ward. Desperation led some to violence, and the murder rate continued to rise. Jai struggled to make a life for himself after high school. He was lucky to land a job at a local Winn-Dixie, but the message he heard many different ways from community elders and even his own grandparents was clear: "If you can, get out of New Orleans." Feeling increasingly unsafe in his community and following an especially horrific murder of a young child, Jai decided it was time to go. The special connection he'd made at the Youth Summit with a fellow Green Team member based at Groundwork Denver helped convince him to relocate and begin anew. Despite having no economic support, Jai gathered together what funds he could, took a leap of faith, and made his way to Colorado.
He didn't engage with Groundwork Denver right away, though. "I was searching for security, safety, and stability," Jai reflects. "I took jobs where I could earn good money, where I knew the employer would support employees getting their education, going to college," he explains. "I liked the jobs just fine, and I made better money than I had ever earned in New Orleans, but I wasn't feeling myself grow or making progress."
As fate would have it, Groundwork Denver began recruiting Jai as a Green Team crew leader. "Shane, Groundwork Denver's youth program manager at the time, really talked me into it," Jai says. "He reminded me of my love for mentoring younger people, and told me my identity as an oldest sibling helped me be a natural fit for the job." Taking on this new position helped Jai "grow into becoming a servant leader, having a strong work ethic and inspiring young people" to see themselves as leaders, too.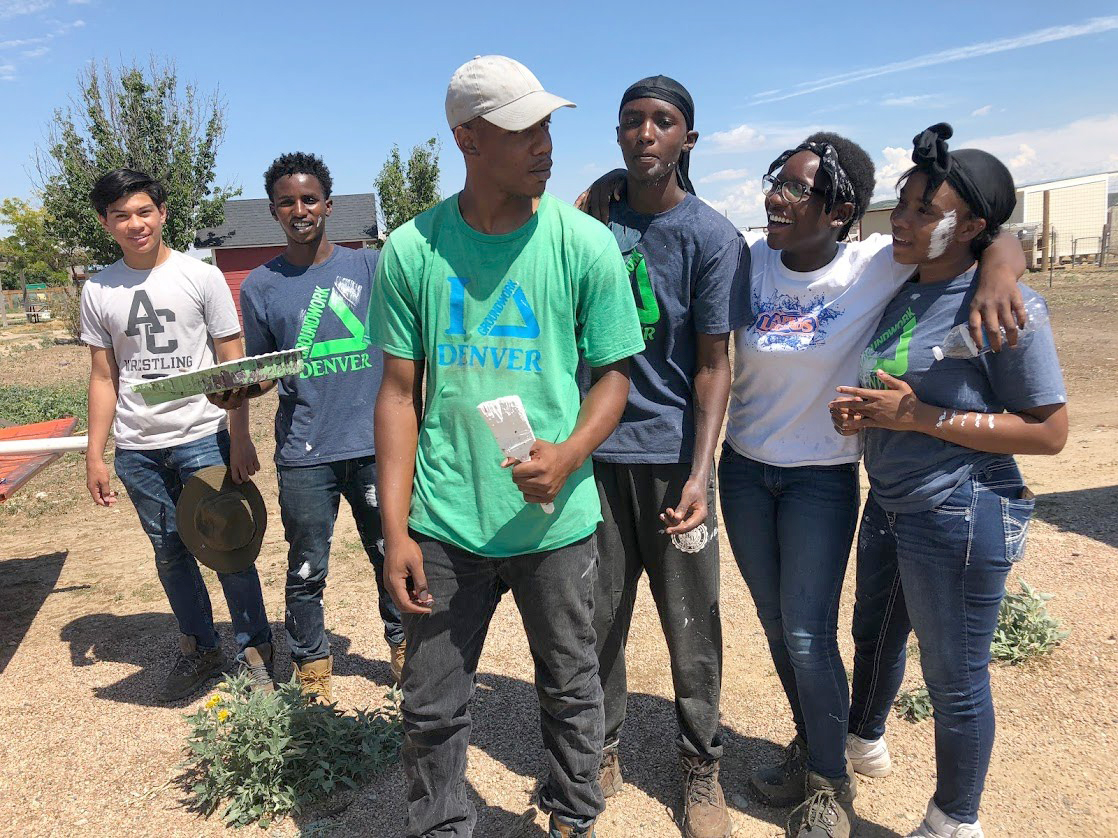 As a youth leader, Jai supported the organization and the dozens of local teens Groundwork employed each summer. The Green Team youth are organized into teams that create impact right in their own backyard through neighborhood clean-ups, taking care of area parks and vacant spaces, and "making their neighborhood as beautiful as they can envision it becoming," Jai explains. Along the way, the Green Team members "learn that they can create change around them wherever they see a need for it."
Jai lives for change. He's experienced a great deal of it in his short lifetime, and he's driven change in neighborhoods where he's lived and worked. After relocating to Denver and reconnecting with the fellow Green Team member he met at Youth Summit, two years ago he became a father. "I have always wanted to be a father, and am so blessed to be able to share my experiences with my daughter, to teach her to grow and learn from my experiences."
And, the changes continue. "I love working with young people, helping them grow, too." This winter, following his participation in a year-long internship with the Bluff Lake Outdoor Center and a nonprofit program for teens entering the judicial system and fulfilling community service hours while finding their path forward, Jai accepted a full-time position at The Urban Farm, where he'll "continue mentoring and guiding teens, to help them figure themselves out" as they grow, learn, and make their way toward adulthood.
Making change happen and being the change is something many people aspire to. For Jai, Groundwork helped him "become more active" and "more job ready," filled with an ever-growing desire to foster in young people the will for growth and change he himself has experienced.