Lucy Crespo, 19, from Groundwork Elizabeth, New Jersey waves her hand and directs a team of youth where to place a row of chairs. She and 38 other Groundwork USA corps members have taken a break from trail work and installing bear-proof food storage boxes to help Yellowstone National Park celebrate the 100th Anniversary of the National Park Service. She smiles easily. "I didn't expect to be here on the anniversary. It's so amazing to share in this opportunity!" Lucy beams. "As a kid, I didn't like being inside. I was born in a forested mountain area of Argentina, and at age four my family moved to Elizabeth. Recently my mom apologized for taking me away from nature and she believes that my passion for conservation work is a way of finding my way back." Whatever the motivation, Crespo has an amazing dedication to urban habitat restoration atypical for most city youth.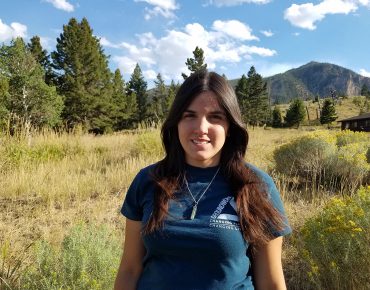 Four years ago, Crespo joined Groundwork Elizabeth, one of the "Trusts" of the Groundwork USA network. Founded in 1998 by the National Park Service and the US Environmental Protection Agency, Groundwork works to engage local residents in marginalized communities across the US to improve the quality of life in their own neighborhoods through brownfield and urban waters reclamation and urban trail and greening projects. Elizabeth, New Jersey is just such a place — a former industrial community with a score of environmental challenges.
"I was volunteering for my school at a local event called Tour de Elizabeth, and there I saw a booth with a lot of plants around it. I told them that I really liked plants and asked if they were looking for volunteers. That's how I found out about Groundwork." Lucy described how the Trust interviewed her a few days later, and that not only did they ask her to participate, but they even offered her a job! "At the booth they told me they were only looking for volunteers, but during the interview, they told me that what they were really looking for was to hire people. They only said 'volunteering' as a way to find people who were really passionate about nature, not just the money."
Over the next several years Lucy stayed active with Groundwork, organizing large community cleaning projects, doing extensive removal of invasive plants in a local city park, helping Kean University students plant at the school farm — whose produce Lucy sold at the organization's Farmers Market — and creating scores of educational programs to teach urban kids about nature. Lucy proudly described how she created a series of scavenger-hunt booklets for her city whereby urban youth could learn about their community's natural resources while having fun. "The booklet encourages the youth to use all their senses, and even helps them to find nature in their backyards."
This past summer, Crespo completed the Conservation Leadership Corps training, a collaboration between the Appalachian Trail Conservancy (ATC) and Groundwork USA. For ten weeks, ATC provided Lucy with training in trail building, interpretation, camping, and a host of corps leadership skills at various sites throughout southern Appalachia. ATC also partnered with the US Forest Service and the Southern Appalachian Wilderness Stewards to provide Crespo with training in field first aid, cross-cut saw, and trail building. Also as part of this intensive training, Lucy became a master Leave-No-Trace educator. "I hiked over 80 miles this summer," she exclaimed proudly. The training proved fruitful, and Crespo was hired back at Groundwork Elizabeth as the Youth Leader.
But for Crespo, the highlight of her summer was the opportunity to return to Yellowstone National Park — her third trip here with Groundwork USA. The week-long corps experience is a collaboration between the Park and Groundwork USA, founded by Judy Knuth-Folts, Deputy Chief of Resource Education and Youth Programs, and Bob Fuhrmann, Youth Programs Director and Volunteers-in-Park Coordinator at Yellowstone. The program allows 60 Groundwork youth from 23 different cities the opportunity to pause from their urban conservation work and spend a week working on trail improvements and other such preservation efforts in the world's first park.
This time, however, Crespo returns as a crew leader overseeing younger crew members. The Groundwork approach is to work with youth over several years in order to foster an appreciation for conservation work and to steer them into careers in conservation. As the new Youth Leader for Groundwork Elizabeth, Lucy can testify that the approach works. "You are never too young to find a way to do what you really want to do," she uttered. Lucy reflects on her work restoring the "last gem of Elizabeth" — a small patch of urban forest currently covered in litter and graffiti which Groundwork is working to restore for public enjoyment. "We have to teach people about nature. If people don't know about it, they don't care about it. That's my job," Lucy says directly. No doubt with that kind of dedication and commitment, her dream of an urban forest will surely become reality.
Lucy returns to her work helping Yellowstone National Park prepare for the 6,000 visitors expected to attend the 100th Anniversary celebration. On August 25th, the National Park Service celebrates a century of service to our nation. Thankfully, because of its role in creating the Groundwork USA network, that service extends from the verdant mountain slopes of the world's first park into even the grittiest corners of post-industrial America. Happy Birthday NPS!