Congratulations to Groundwork RVA and Richmond's Storefront for Community Design, which have received a $100,000 grant from the Lipman Foundation of Richmond, Virginia, to expand Groundwork's Green Workforce career training program, in which youth develop a strong work ethic, learn teamwork, gain job experience, and manage projects.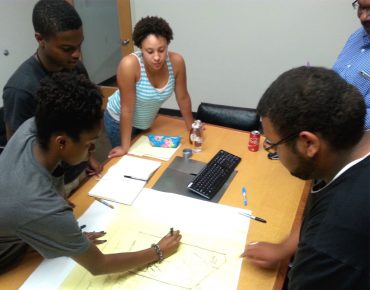 At Richmond's newly opened Six Points Innovation Center (6PIC), young people will learn about sustainability and design and acquire "green collar" job skills through a STEAM (Science, Technology, Engineering, Art, and Math) curriculum. Located in the predominantly low-income, African-American Highland Park neighborhood, 6PIC will serve as an engaging hub for youth activity, community revitalization, and nonprofit collaboration.
According to Groundwork RVA's executive director Giles Harnsberger, "Vocational education meets real-world application when teens use green building skills at Six Points Innovation Center. Projects include utilizing food waste to create renewable energy systems and creating and caring for green spaces in Highland Park."
Putting youth in the lead was a priority from the beginning of the 6PIC concept.  Says Ryan Rinn, executive director of Storefront for Community Design, "Students from Richmond Public High Schools are leading with their vision for the community. A dozen RPS teens put their pencils to work alongside architects and designers to make sure this space is a place teens want to be."

6 Points Innovation Center from Storefront Richmond on Vimeo.
Initially, Groundwork RVA partnered with Storefront for Community Design on a proposal to Impact 100 Richmond, a program of The Community Foundation Serving Richmond and Central Virginia.  Impact 100 is a "giving circle" where over 200 women pool their charitable gifts to award $100,000 each year to a community organization whose work will make a positive and lasting transformational impact on Richmond communities.  The competitive process includes a grant proposal, site visit, and presentations.  Groundwork RVA was one of five finalists, but did not ultimately receive the Impact 100 award. Still, the exposure produced the same result: full funding of the proposal by the Lipman Foundation, which honors the life of Mrs. Jeanette Lipman, a Richmond-born "venture philanthropist." Mrs. Lipman lived a life devoted to her family and the Richmond community.  She was passionate about education and providing support to innovative solutions and grassroots organizations.
The recently renovated 6PIC program space, owned by Boaz & Ruth, is perched on the historic Six Points intersection at 3001 Meadowbridge Road in Richmond's Highland Park neighborhood.  Storefront for Community Design brought partners Groundwork RVA, Saving Our Youth, and Art180 together in 2015 to provide a plethora of youth services to engage high-school-age youth in a safe after-school setting at the new youth center.  The Robins Foundation's Community Innovation Grant program supported an award to Storefront in 2016 to support the renovation of the space for after-school youth services.  Since the award was granted, a bevy of partners have come to the table to support innovative, equity driven youth programming.  Supporting organizations include:  Storefront for Community Design; Groundwork RVA; Saving Our Youth Virginia; ART180; Boaz & Ruth, Virginia; Virginia LISC; Open Minds; Storefront Studio; Untold RVA; RVA Rapid Transit; Lewis Ginter Botanical Gardens/ Beautiful RVA; and I Am My Life.
The grand opening of the 6PIC facility and celebration of the Lipman Foundation grant award is Tuesday, June 6th, (6:00 – 8:00 pm), and is open to the public.  Teens are encouraged to attend.