Want to Start a Groundwork Trust in Your Community?
In August 2017, Groundwork USA selected Mobile, Alabama, as a new community for the Groundwork program.
The community is currently working with Groundwork USA to complete their feasibility study, a six-month process to assess how a local Groundwork Trust would be established and sustained over time.
Funding is now in place to select a new community for the Groundwork Program. The selected community will be eligible for up to $200,000 in funding and technical assistance from the National Park Service, US Environmental Protection Agency, and Groundwork USA to plan, establish, and build the capacity of a Groundwork Trust organization in their community.
Groundwork USA is now accepting Letters of Interest from communities wishing to begin the process of applying for Groundwork USA program funding and technical assistance and to join the Groundwork Network.
Letters of Interest must be received by Groundwork USA by April 30, 2018.
Starting a Groundwork Trust: Questions and Answers
During and following the "Starting a Groundwork Trust in Your Community" webinar, we received great questions about the Request for Proposals and overall process for starting a Groundwork Trust. We are sharing these questions and answers below and will continue to post additional questions and answers here as they come in. Be sure to check back periodically for updates!
To learn more about the Groundwork model and the application process in detail, view this informational webinar, held February 27, 2018: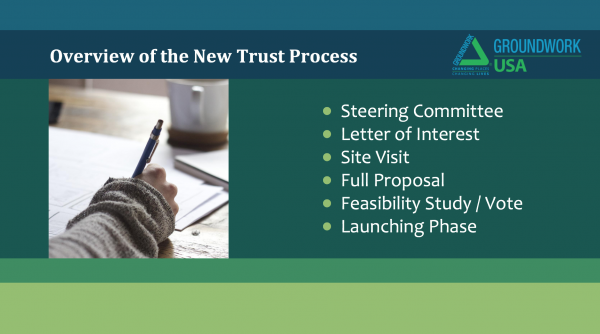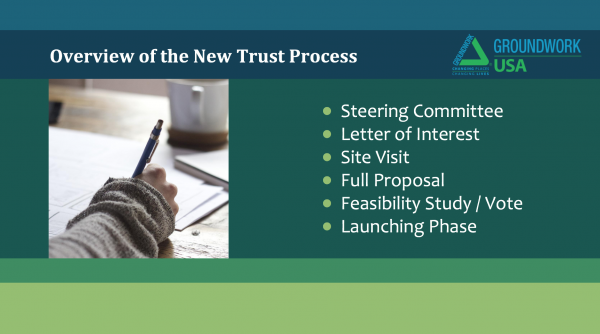 If you have questions about the application process, please contact Stacey Moran, Program, Policy and Resource Manager at Groundwork USA (stacey@groundworkusa.org).