In the Walk Through the Asset-Mapping Process illustration, a young community organizer embarks on a walk through her neighborhood's landscape.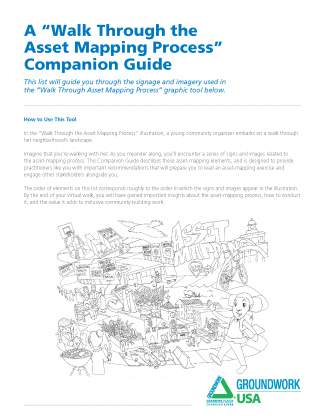 Imagine that you're walking with her. As you meander along, you'll encounter a series of signs and images related to the asset-mapping process.
This Companion Guide describes these asset-mapping elements, and is designed to provide practitioners like you with important recommendations that will prepare you to lead an asset-mapping exercise and engage other stakeholders alongside you.
The order of elements on this list corresponds roughly to the order in which the signs and images appear in the illustration. By the end of your virtual walk, you will have gained important insights about the asset-mapping process, how to conduct it, and the value it adds to inclusive community-building work.
Download "A Walk Through the Asset-Mapping Process" Companion Guide