Why is an area-wide planning approach to brownfield reuse beneficial, especially to former manufacturing communities? How have communities successfully nudged their brownfield-affected neighborhoods toward renewal? How can area-wide planning create lasting outcomes?
These questions, and a desire to distill the answers into a clear set of takeaways, are what drove Groundwork USA's brownfields technical assistance team to develop its newest report, Planning with an Eye Toward Implementation: What All Communities Can Learn from Using a Brownfields Area-Wide Planning Approach.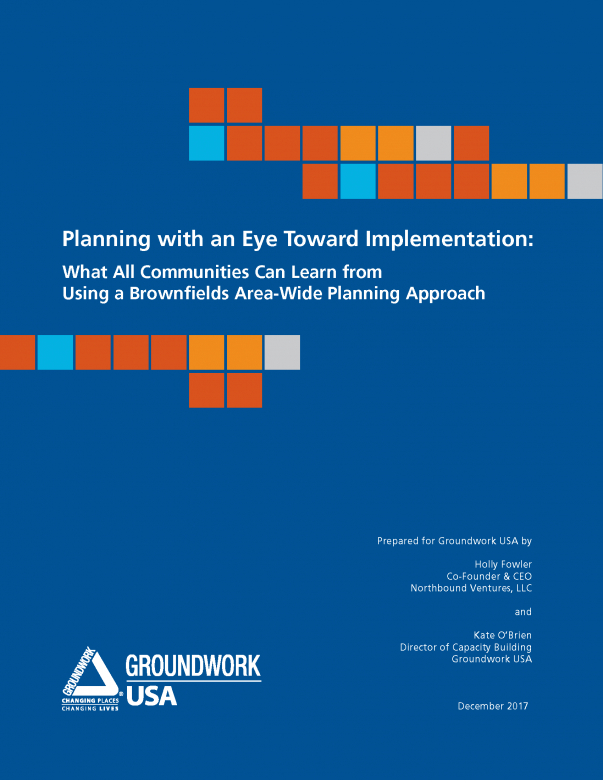 Since 2014, Groundwork USA practitioners have worked with EPA Brownfields Area-Wide Planning (BF AWP) grantees to help build capacity around core project themes, including sustaining community engagement and managing planning processes with an eye toward implementation. Over the past six months, our team reviewed final plans that emerged from EPA-funded brownfield area-wide planning projects and interviewed dozens of project managers, elected officials, project officers, and other local stakeholders affiliated with each project.
From this study and from a number of conversations, we distilled the following best practices to help practitioners learn from and implement the area-wide planning approach in their own brownfield-affected communities, regardless of the source of funding supporting it:
Use an adaptive approach to project management.
Maintain flexibility with project goals and timeline.
Activate an array of project partners & stakeholders.
Get creative with community engagement.
Pivot around catalyst sites and property ownership.
Manage to the market.
Plan for policy and legislative change.
Plan with an eye toward implementation.
Leverage and layer resources.
Realize tangible results incrementally.
Brownfield redevelopment in former manufacturing communities, especially those that have faced decades of market stagnation, foreclosure, and land vacancy, often takes more time than local stakeholders hope it will. Much of community revitalization work requires persistent effort on the part of many stakeholders over a number of years or even decades. To build and sustain redevelopment momentum, it is critically important to achieve small, incremental, interrelated victories and celebrate them broadly across a community.
In the most successful cases, creative and engaging site activation strategies:
involve residents and other local stakeholders,
take place alongside or in advance of bricks-and-mortar development projects,
are planned behind the scenes, and
take shape through steady, incremental progress.
In many grantee communities, another beneficial outcome of the BF AWP approach is that it instills a lasting culture and expectation of multi-year, multi-stakeholder, community-wide project and program implementation.
The BF AWP program encourages people and institutions across a community to come together to redefine a place and shape a vision for its future. These processes and partnerships transform spaces that currently draw value away from communities, reinventing them as beautiful green spaces, affordable homes, thriving businesses, civic centers, and other spaces that offer greater access to prosperity for all.
If you're interested in receiving peer support and learning to design and implement a brownfields area-wide planning approach in your community, please visit our website to submit a technical assistance request. Our Brownfields and Equitable Development TA team is here to assist brownfield-affected communities in all 50 states!