Recently, Groundwork USA Director of Capacity Building Kate O'Brien, Groundwork Milwaukee Program Director Antoine Carter, and I represented Groundwork USA at the American Community Gardening Association (ACGA) Annual Conference in Cleveland, Ohio. The conference was themed "Cleveland Growing Strong," and the host city's challenges were familiar to the many attendees from across the country: disinvestment in the wake of suburbanization and deindustrialization, lack of affordable and available healthy food options, inadequate access to healthcare, health disparities, and significant amounts of vacant land.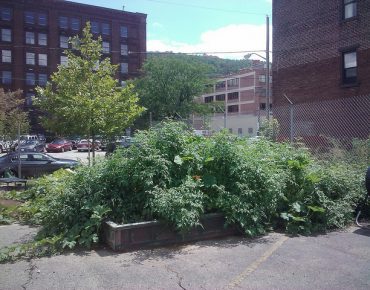 Our workshop explored how practitioners are using gardening and farming to transform vacant urban properties into safe, beautiful, and nourishing social spaces, and presented best practices for reclaiming brownfields and contaminated parcels as community assets. Antoine opened the dialogue by offering a case study of the challenges of this work in Milwaukee, a city that has over 3,000 vacant lots—many of them home to former residences—with varying degrees of contamination. He discussed lessons learned in his work to reclaim vacant land for community gardening, such as the need to be strategic in the selection of vacant lots for greening and urban agriculture. He also explored his journey of working with municipal leaders and local residents to foster a shared understanding of community development that goes beyond the built environment, to include green spaces and opportunities for community-building and wealth-building among residents, youth, and neighbors.
Next, Kate led a "Brownfields 101" segment, which included basic information about how to proceed when one encounters or suspects soil contamination when leading greening or agriculture projects. Kate addressed how to conduct a Phase I assessment (a "background check") on vacant parcels and how to understand the industrial legacy of a site based on historical research and telltale signs of contamination. She also introduced the audience to the financial and technical assistance resources one can use to address and clean up contamination, and/or build a coalition-driven advocacy campaign to reclaim contaminated lots for community benefit.
Finally, I presented my graduate school research and offered best practices for gardeners and farmers to protect themselves from contamination while maximizing the benefits of urban gardening and farming. Although our presentation was the last in a long day of workshops, over a dozen individuals came up afterwards to talk with us and ask questions.
Groundwork USA runs a robust technical assistance program to support equitable development and environmental justice pursuits in brownfield-affected communities. Our team developed the resources below to build the knowledge and capacity of practitioners wishing to explore gardening and urban agriculture on properties suspected of past contamination:
Rebecca Harnik collaborated with Groundwork USA this year as a part of her graduate studies. She recently completed her MS in Agriculture, Food and Environment from Tufts University's Friedman School of Nutrition Science and Policy.