November 27th, 2015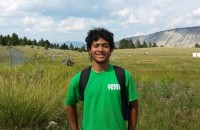 The Thanksgiving and holiday season is a great time to take stock of all the things we're grateful for: family, friends, pets, the beauty of the natural world.
But did you know there's a growing body of scientific evidence that feeling and expressing gratitude can be good for your health? Or that the U.S. National Park Service provides evidence that gratitude can be passed down through generations?
Combining the latest research on gratitude with personal stories, The Science of Gratitude, a one-hour public radio special narrated by Academy Award-winner Susan Sarandon, explores the opportunities and challenges to feeling truly grateful.
One thing we're grateful for: the documentary includes interviews with Jairo Hernandez of Groundwork Lawrence and Curt Collier of Groundwork USA and Groundwork Hudson Valley! Stream the documentary online from WNYC Radio or find out when it's airing on your local public radio station here.
You can hear the section with Jairo and Curt around 00:16:15 – but make sure to listen to the whole thing. You'll be grateful that you did!