February 3rd, 2016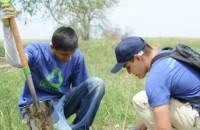 Brownfields and equitable development are the topics du jour for Groundwork USA at the 15th annual New Partners for Smart Growth Conference in Portland, OR next week. Groundwork staff members Kate O'Brien and Tangier Barnes will facilitate a conference session focused on how to design and implement successful brownfield small-area planning projects. Our team is particularly excited about an "extracurricular" workshop we'll deliver, focused on engaging young people in brownfield planning and advocacy. With this workshop, Groundwork USA aims to capture the attention of youth, community-based practitioners, and municipal staff alike, and build their capacity for leading inclusive, equitably oriented projects and programs.
If you're interested in attending our youth-oriented brownfield planning and advocacy workshop happening in Portland, OR on Thursday, February 11, please click here for more information on how to register.
Please join us in Portland!
New Partners for Smart Growth conference session:
"Small-Area Planning: Assuring Responsive and Equitable Development Outcomes"
Time: Thursday, February 11: 3:30 to 5:30 P.M. PST
Co-located workshop:
"Engaging Youth in Brownfields Advocacy and Planning" 
Time: Thursday, February 11: 6:30 to 8:30 P.M. PST
Location: Portland Fire Station No. 1, 55 SW Ash Street, Portland, OR 97204
Funded by EPA to deliver technical assistance and peer support to people in brownfield-affected communities, Groundwork USA provides valuable tools and insights to help communities re-develop brownfields while assuring environmental justice and more equitable development outcomes.